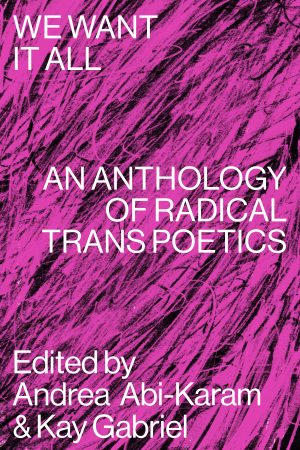 We Want It All: An Anthology of Radical Trans Poetics
A collection of formally inventive writing by trans poets against capital and empire.
Intergenre
,
Poetry
,
Literature / Queer Studies
$22.95
Editors Andrea Abi-Karam and Kay Gabriel offer We Want it All: An Anthology of Radical Trans Poetics as an experiment into how far literature, written from an identitarian standpoint, can go as a fellow traveler with social movements and revolutionary demands. Writing in dialogue with emancipatory political movements, the intergenerational writers assembled here imagine an altogether overturned world in poems that pursue the particular and multiple trans relationships to desire, embodiment, housing, sex, ecology, history, pop culture, and the working day.
Details
ISBN: 9781643620336
Paperback, 480 pages, 6 x 9
Publication Date: November 24, 2020
Reviews
"shit, what the hell/ have I built," writes Zavé Gayatri Martohardjono in a poem featured in this exciting and frank anthology of works by trans writers… This anthology imagines poetry as a resource by which the community might stand "against capital and empire," using language to reimagine collective struggle.