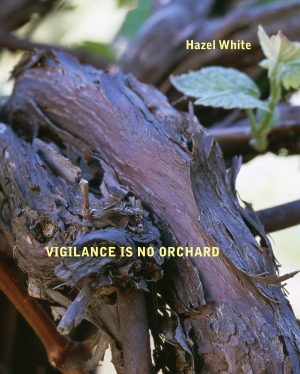 Vigilance Is No Orchard
An experimental poem sequence inspired by a famous garden now in ruin.
$16.95
Additional information
| | |
| --- | --- |
| Weight | 0.3875 lbs |
| Dimensions | 7 × .2 × 8.4 in |
In Vigilance Is No Orchard, Hazel White records her haunting romance with the Valentine Garden, created by landscape architect Isabelle Greene in the foothills of Santa Barbara, California. Jealous of its maker's power to affect a dynamic experience of space, White tries to make language play faithfully in the game coursing between the body and Greene's fiercely stirring landscape. Both the poems and the constructed landscape they describe are complex and explorative, never simplified. Instead their interests are survival, forage and repair, the act of making, accumulation and overflow that results in flowering and eventually gives way to loss.
Praise
I was interested in this generous or ethical idea of a book as a place you might be welcomed into, like a 'refuge.' I was also very moved by the book as [a] site, also, of immutual 'encounters' that aren't, always or necessarily, productive or easily explored. 'This wants not to be a strong narrative,' writes Hazel White, deep in her project of place, Vigilance Is No Orchard. But also: …real work is hospitality.'
Details
ISBN: 978-1-937658-82-3
paperback, 112 pages, 7 x 9 in
Publication Date: 2018
Reviews
Exquisitely alert to the realities of natural environments, White's book is among the most interesting of the new nature writing.