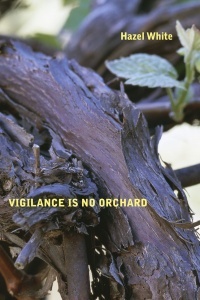 Vigilance Is No Orchard
An experimental poem sequence inspired by a famous garden now in ruin.
$16.95
Additional information
| | |
| --- | --- |
| Weight | 0.3875 lbs |
| Dimensions | 7 × .2 × 8.4 in |
In Vigilance Is No Orchard, Hazel White records her haunting romance with the Valentine Garden, created by landscape architect Isabelle Greene in the foothills of Santa Barbara, California. Jealous of its maker's power to affect a dynamic experience of space, White tries to make language play faithfully in the game coursing between the body and Greene's fiercely stirring landscape. Both the poems and the constructed landscape they describe are complex and explorative, never simplified. Instead their interests are survival, forage and repair, the act of making, accumulation and overflow that results in flowering and eventually gives way to loss.
Praise
I was interested in this generous or ethical idea of a book as a place you might be welcomed into, like a 'refuge.' I was also very moved by the book as [a] site, also, of immutual 'encounters' that aren't, always or necessarily, productive or easily explored. 'This wants not to be a strong narrative,' writes Hazel White, deep in her project of place, Vigilance Is No Orchard. But also: …real work is hospitality.'
Details
ISBN: 978-1-937658-82-3
paperback, 112 pages, 7 x 9 in
Publication Date: 2018
Reviews
White (Peril as an Architectural Enrichment) unites her passions in this finely conceived collection that fixates on one remarkable garden in Santa Barbara, Calif. The work evolved over many years, from White's first, visceral encounter with the Valentine Garden through her long friendship with the garden's designer, legendary landscape architect Isabelle Greene. "I want to live in the green," White puns. "And this wants out of me onto the page." The book formally and substantively records White's apprenticeship in Greene's principles of composition, "reaching beyond a lesson to a dappled place where light plays." Just as plants of Southern California's harsh terrain "demonstrate the filigree of survival," so do White's lines form a "zigzag path/ of abandonment." These elements both invite the reader to view from a distance and "draw a visitor forward" into contact, shelter, even trespass. White's most ambitious passages merge poetry with the physical and phenomenological properties of this single, intentional acre: "now alive in the mind of the other, building to achieve her for her." And yet, suffusing the book's memorialization of the garden is the fact of its passing: "The vision was not mine to keep. It slows and fails." Exquisitely alert to the realities of natural environments, White's book is among the most interesting of the new nature writing.