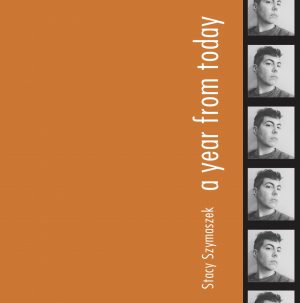 A Year From Today
A distinctive, book-length poem written over the course of a year that carries forward the lineage of New York School poets.
$16.95
Additional information
| | |
| --- | --- |
| Weight | 0.6875 lbs |
| Dimensions | 8 × .6 × 7.9 in |
A Year From Today traverses a many-layered urban terrain—social, political, poetic, animal—in a form more raw than a diary, weightier than a series of sketches, more idiosyncratic and implicated than a conceptual program. Among this volume's many insights is how we spend our days detecting, minute-by-minute and phrase-by-phrase, an overarching aesthetic and moral design. It's for the kind of grown-up who might say, "don't/look for/who's really in charge c'est moi." And for the kind of sensitive brigand who might add, "maybe the way to go about this/is to stay within earshot & sip the Wild Turk."
Praise
Every flying thing needs a place to land, and even time is not immune to the allure of a poet with her sun in Cancer. A Year From Today builds time a nest in which to chill, which sounds soft, and is, in the way that Pasolini was soft, and New York City is also soft, and every line in this book is a soft inerrant heresy against that hard god productivity.  The passerbys, the test results, seasons, work crisis, and carb counts accrue unhacked, material, and unrefused in this final work of Stacy Szymaszek's notebook trilogy.  She makes a history here that perfects poetry's cool anti-valor, which I love, and it makes me happy we get to walk down the street with her.
Details
ISBN: 9781937658762
paperback, 136 pages, 8 x 8 in
Publication Date: 2018
Reviews
The book demands patience and persistence from its reader, who is asked to witness that "it's hard to get to know someone/ to the point of prediction." If Szymaszek's goal with this journal is "to embroider/ a new universe with new information," it succeeds both on its own merits and as a part of the larger trilogy.