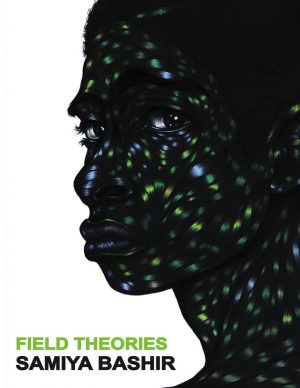 Field Theories
These poems span lyric, narrative, dramatic, and multi-media experience, engaging their containers while pushing against their constraints 
$9.99 – $15.95
Additional information
| | |
| --- | --- |
| Weight | .45 lbs |
| Dimensions | 6.2 × .5 × 8.2 in |
| Format | eBook, Paperback |
Field Theories wends its way through quantum mechanics, chicken wings, Newports, and love, melding blackbody theory (idealized perfect absorption vs. the whitebody's idealized reflection) with live Black bodies. Woven through experimental lyrics is a heroic crown of sonnets that wonders about love, intent, identity, hybridity, and how we embody these interstices. Albert Murray said, "The second law of thermodynamics ain't nothin' but the blues." So what is the blue of how we treat each other, ourselves, and the world, and of how the world treats us?
Praise
"Field Theories is flush with blue notes, swung in the exercise and exorcism of blue devils. Our tongues are in the pitch black mouth she conjures and records. This is our music."
Details
ISBN: 9781937658632
Paperback, 128 pages, 6.25 x 8 in
Publication Date: 2017
Reviews
It's easy to find poetry in science, from the ring of Latin names to the construction of an elegant theory. It's a harder thing to find science in poetry. But that is the genesis of Portland poet Samiya Bashir's book Field Theories, where poems titled after scientific principles like 'Planck's Constant' and 'Synchronous Rotation' plumb the space where theories collide with real life: from the back seat of a taxi to jazz clubs, early morning cigarettes, human fables, gun violence and Groucho Marx.