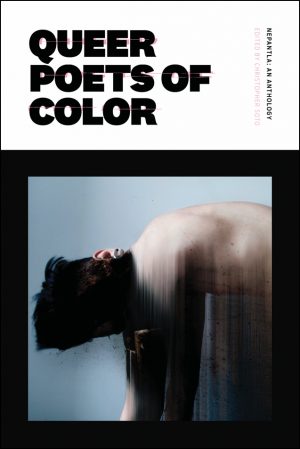 Nepantla
The first major literary anthology for Queer Poets of Color in the United States.
$12.99 – $17.95
An Anthology Dedicated to Queer Poets of Color
Additional information
| | |
| --- | --- |
| Weight | 0.7 lbs |
| Dimensions | 5.5 × .5 × 8.2 in |
| Format | eBook, Paperback |
In 2014, Christopher Soto and Lambda Literary Foundation founded the online journal Nepantla, with the mission to nurture, celebrate, and preserve diversity within the queer poetry community, including contributions as diverse in style and form, as the experiences of QPOC in the United States. Now, Nepantla will appear for the first time in print as a survey of poetry by queer poets of color throughout U.S. history, including literary legends such as Audre Lorde, James Baldwin, June Jordan, Ai, and Pat Parker alongside contemporaries such as Natalie Diaz, Ocean Vuong, Danez Smith, Joshua Jennifer Espinoza, Robin Coste Lewis, Joy Harjo, Richard Blanco, Erika L. Sánchez, Jericho Brown, Carl Phillips, Tommy Pico, Eduardo C. Corral, Chen Chen, and more!
Details
ISBN: 9781937658786
paperback, 224 pages, 5 1/2 x 8 1/4
Publication Date: 2018
Reviews
According to Soto, three elements were considered in choosing the more than 100 poems included here: a poem's emotionality, the risks a poet is taking, and whether the poet has been "absolutely pivotal to development of other queer of color poets." Soto also recognizes the limitations of such an anthology, particularly in regards to the nebulous nature of defining terms of identity and ways included poets self-identify, as well as the various ways the work may be seen by other members of related communities in the U.S. and internationally. Despite these caveats, Soto succeeds in assembling an expansive, sonorous, and literarily significant volume that reveals the broad range of engagements queer poets of color have undertaken over the years.