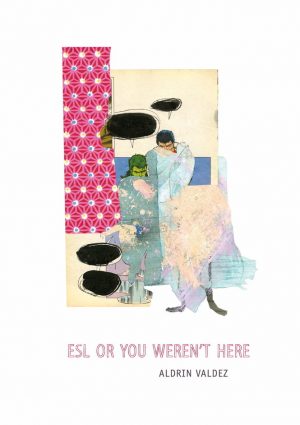 ESL or You Weren't Here
An exciting debut collection of poems that presents a portrait of the poet as witness to, & healer of, their child self.
$16.95
Additional information
| | |
| --- | --- |
| Weight | 0.4875 lbs |
| Dimensions | 7 × .5 × 9.2 in |
ESL or You Weren't Here tells the story of a queer Pinoy who immigrates to New York in the 1990s in order to be reunited with their parents. What follows is the poet's awakening to the legacy of American imperialism & colonialism in the Philippines, and to the experience of living between languages, cultures, temporalities, and genders—untranslatable. ESL asks the reader to bear witness to embodied histories of forced immigration, separation and abandonment rooted in patriarchal racism.
Praise
Aldrin Valdez's ESL or You Weren't Here is that rare book of poems that unfurls a story while also offering lovely, satisfying poems page by page. There is so much love here, so much tenderness, so much beauty, which doesn't mean the book isn't also full of grief, probing, protest, and alchemy. Valdez has written one long song I'm honored to hear.
Details
ISBN: 978-1-937658-86-1
paperback, 112 pages, 6 x 8 1/4 in
Publication Date: 2018
Reviews
"There's a tendency among many Filipinos to slang-icize Western brand names to articulate various objects or acts. For example, 'Kodakan' means to take photographs. Valdez's use of 'Colgate' is not mere metaphor for the referenced inability of the persona's relatives to accurately identify the persona's disease. The insertion of Colgate is a vestige of colonialism such that the word's presence also raises the issue of whether a Filipino can ever be at 'home' in English, can ever fully/successfully assimilate (or pass for), or (should) become fluent in a language whose relationship began through colonialism and imperialism. It's a complicated matter, as complicated as the disease referenced in the poem whose identity can't quite be revealed."