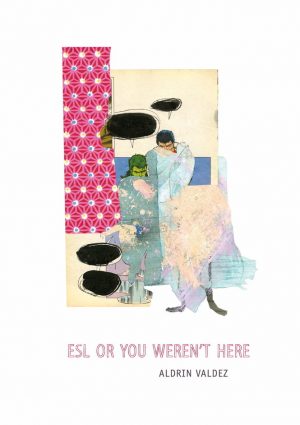 ESL or You Weren't Here
An exciting debut collection of poems that presents a portrait of the poet as witness to, & healer of, their child self.
$9.99 – $16.95
Additional information
| | |
| --- | --- |
| Weight | 0.4875 lbs |
| Dimensions | 7 × .5 × 9.2 in |
| Format | eBook, Paperback |
ESL or You Weren't Here tells the story of a queer Pinoy who immigrates to New York in the 1990s in order to be reunited with their parents. What follows is the poet's awakening to the legacy of American imperialism & colonialism in the Philippines, and to the experience of living between languages, cultures, temporalities, and genders—untranslatable. ESL asks the reader to bear witness to embodied histories of forced immigration, separation and abandonment rooted in patriarchal racism.
Praise
Aldrin Valdez's ESL or You Weren't Here is that rare book of poems that unfurls a story while also offering lovely, satisfying poems page by page. There is so much love here, so much tenderness, so much beauty, which doesn't mean the book isn't also full of grief, probing, protest, and alchemy. Valdez has written one long song I'm honored to hear.
Details
ISBN: 9781937658861
paperback, 112 pages, 6 x 8 1/4 in
Publication Date: 2018
Reviews
Since ESL, OR YOU WEREN'T HERE is partly about the immigrant experience, "broken syllables" is as much a reality during immigrant attempts to assimilate, whether voluntarily or involuntarily. So much is controlled or affected by language and it's appropriate to privilege that element as much as "broken streets" for purpose of beginning this collection's narrative.
I'm struck not just by the lush, evocative diction but also by how it's clearly earned (versus, I suppose, merely imagined).