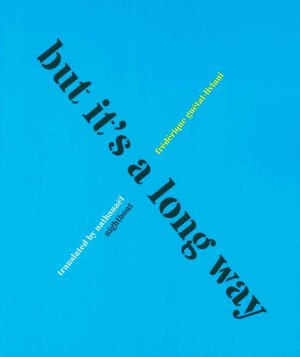 but it's a long way
A book of arresting poems that inscribes the lived experiences of public housing residents in the southeast of France
$15.95
Additional information
| | |
| --- | --- |
| Weight | 0.2125 lbs |
| Dimensions | 5 × .2 × 6 in |
Frédérique Guétat-Liviani's but it's a long way is a peace treaty in the form of several soliloquies that, taken together, read like a death warrant or an obituary for an age that has never come. Transcribed from conversations with people of all ages living in public housing in the suburbs of Avignon, these narratives evoke itineraries between Morocco, Algeria, Albania, Spain, Mayotte, Côte d'Ivoire, and France. The result is a magisterial work, a continental chorus that articulates a confluence of humanities.
Details
ISBN: 978-1-937658-81-6
paperback, 96 pages, 5 1/4 x 6 1/4
Publication Date: 2018
Reviews
but it's a long way, by frédérique guétat-liviani (trans. by nathanaël), is an achingly beautiful poetic transcription of interviews with people living in the shanties and banlieus of Avignon, people who traveled into precarity across various and incalculable distances and differences. Against what guétat-liviani describes as the normative "inventory of the unnamed," in which we can read the receipts of racial capitalism, border securitization, and other regimes of exclusion, but it's a long way renders human voices in their haunting specificity, as chorus and long poem against a collective erasure. The work is as devastating as it is moving, and the French is included after the English, as is an illuminating interview/essay on the conditions of composition for this multi-voiced and interlingual text. Like the others on this list, it is a book I've already returned to, and one I anticipate keeping close for some time to come.