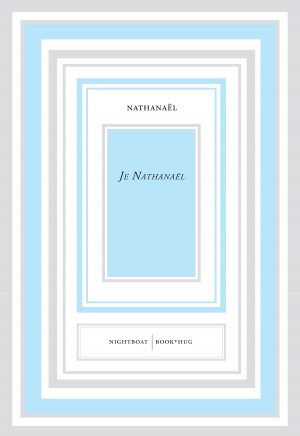 Je Nathanaël
Je Nathanaël is an endangered text. Neither essay nor poem nor novel nor sex-show, what it takes from language it gives back to the body.
Translation
,
Intergenre
,
Essay
$15.95
With an afterword by Elena Basile
Additional information
| | |
| --- | --- |
| Weight | .35 lbs |
| Dimensions | 5.4 × .6 × 7.9 in |
In Je Nathanaël, first published in 2006, Nathanaël explores ways in which language constrains the body, shackles it to gender, and proposes instead a different way of reading, where words are hermaphroditic and transform desire in turn. Suggesting that one body conceals another, it lends an ear to this other body and delights in the anxiety it provokes. With parts written in French, other parts in English, this is truly a hybrid text, throwing itself into question as it acts upon itself in translation. It is both originator and recipient of its own echo. In this regard it does not, cannot exist, pulling insistently away from itself in an attempt to draw attention to the very things it seeks to conceal. In this way, Je Nathanaël is a book of paradox, negating itself as it comes into being.
Details
ISBN: 9781937658915
paperback, 88 pages, 5.5 x 8
Publication Date: 2018
Reviews
"Je Nathanaël is a broken address, left to resonate in the now empty room that the lover, the You, has left. It is a small book which deserves time, caution, attention; after all, as the speaker indicates near the work's closing, "People are wary of small books, intimate books that slide effortlessly into a pocket. The book's measure is the word" seemingly only. We are right to be wary of this. And yet, "what of the power of the echo?"