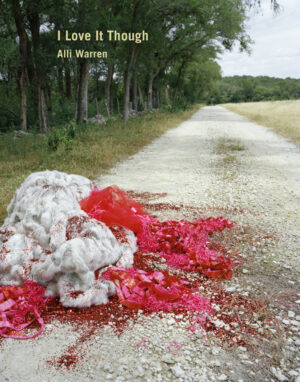 Additional information
| | |
| --- | --- |
| Weight | .3 lbs |
| Dimensions | 5.8 × .5 × 6.8 in |
Alli Warren's "I Love It Though" looks hard at the material and affective world we've inherited, including the ordinariness of the sublime and the sublimity and transcendence of what's most ordinary. This book makes meaning of our contemporary moment, both sharp and vulnerable, concrete and musical. These poems are committed to living in the present, delirious with outrage and hope for something better.
Praise
In I Love It Though, growing authority and growing bewilderment appear to be out on a date, perhaps married, "the bottom / of the surface of the sound" never not in effect.  Propelled by closely parsed internal commotion, the book is a great follow-up to Here Come the Warm Jets, itself a great follow-up to the earlier books that rightly put Alli Warren on the map as a poet to watch, be reckoned with, read and reread.
Details
ISBN: 978-1-937658-60-1
Paperback, 112 pages, 5.5 x 6.75"
Publication Date: 2017
Reviews
"Her work is quietly singular; without fuss and with calm commitment, she has for the last few years been building up an achieved and purposive poetry, with none of the bravado or braggadocio that terms like 'achieved' build up in the bloated corpus of their own self-awareness, bestowing laurel wreaths in parades of categorising, crowning, dividing. It is particular work, attentive to particularity, but with plenty of space to breathe."