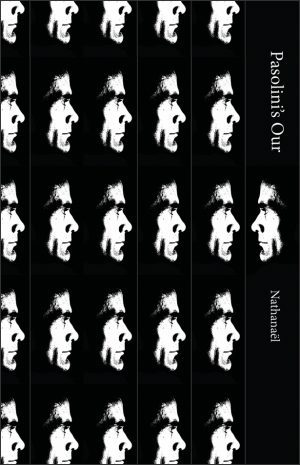 Pasolini's Our
A philosophical and epigrammatic meditation on a body immersed in language, history and place, refracted through film, photography and architecture.
$15.95
Additional information
| | |
| --- | --- |
| Weight | 0.2625 lbs |
| Dimensions | 5.5 × .5 × 8 in |
The body of the filmmaker is itself a discrepancy. This may be one of this book's claims, if it were to advance something like an argument. Instead it writes its way through to a dry swamp, in the elusive company of Pier Paolo Pasolini, Mizoguchi Kenji, and the albatross, evincing procedures of extinction that owe something to both translation and photography. Its armament, approximating the latent architectures of the Berlin Wall, is held up against the declensions of film, its destructibility. What might otherwise be read as a criminal investigation whose many pieces of evidence reproduce a body whose principal characteristic is that it is found neither in language nor at the edge of a scrubby beach.
Details
ISBN: 9781937658908
paperback, 80 pages, 5.5 x 8 in
Publication Date: 2018