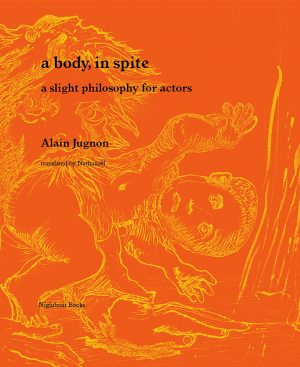 a body, in spite
A deft book of aphorisms by an important French philosopher and writer
$11.95
Additional information
| | |
| --- | --- |
| Weight | .25 lbs |
| Dimensions | 5.2 × .3 × 6.1 in |
Philosopher-playwright Alain Jugnon's a body, in spite introduces this prolific French author to an English-speaking readership. The aphorisms that comprise this slight philosophy for actors are an inventoried body with and without its defenses. With incisive humor, Jugnon casts his intellect into the many-organed world, to draw from its semantic recesses a sort of divine putrescence. This work, written for the stage, and received as a presage, reads like an autobiography of Nietzsche's last laugh. This bilingual edition features an afterword by the translator.
Praise
The language of poets theater in the United States, beginning with Gertrude Stein, challenged the assumptive place of the actor by installing a certain attitude toward reading and then toward looking. Performance art was one consequence. And another: self-sufficient "scripts" remain a prevalent form. But radical theater in the United States was forever changed by the irresistible urge to enact Antonin Artaud's manifestos, which themselves already performed the mise-eån-scène. It was M.C. Richards' translation of Theater and Its Double that made the difference between page and stage surmountable, circumnavigable, and eventually moot. Artaud may have "assembled the plans for a poetry-theatre-philosophy life" but the build endures. Nathanaël's translation of Alain Jugnon's a body, in spite will be an important moment in this series. Jugnon has a lot to offer contemporary efforts to embody the event of thought. The sensibility of the writing produces as many instantly quotable maxims as it does snarling ambiguities, together amounting to a critique of the persistent value of the grand old beyond. Having the original French in tandem with Nathanaël's note on the translation will indeed fuse these elements. Here is exactly "a slight philosophy for actors": "One sees the bullshit of one's similars when one hears the laughter of those who differ." There are hundreds more inside.
Details
ISBN: 9781937658755
Paperback, 112 pages, 5 1/4 x 6 1/4"
Publication Date: 2017
Reviews
Philosopher Alain Jugnon's "A Body, In Spite" is comprised of 301 written philosophical fragments on the theater. In a public conversation centering on this book at the School of the Art Institute of Chicago in 2017, Jugnon claimed to have been channeling Nietzsche (he "became Nietzsche") in writing this book of aphorisms, concocting one fragment a day for a year. He then culled the short, allusive, poetically ambiguous aphorisms and 'arranged" them at random—with, he admitted, the occasional intentional intervention in the interest of creating provocative juxtapositions or elevating cognitive frisson. The brevity of the book and the "slightness" of the 301 entries on theater and acting, which play with the potentials of linguistic polysemy, indeed owes to Nietzsche's idea that philosophy should be "light," free, dancing, mobile—as well as theatrical, spectacular.