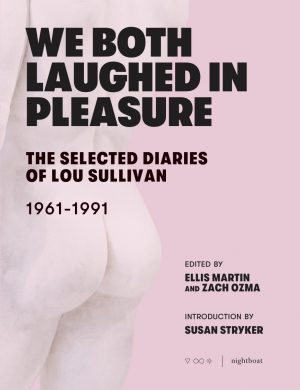 We Both Laughed in Pleasure: The Selected Diaries of Lou Sullivan
Drawn from Lou Sullivan's meticulously kept journals, this landmark book records the life of arguably the first publicly gay trans man to medically transition.
eBooks
,
Intergenre
,
Literature / Queer Studies
$14.99 – $21.95
2020 LAMBDA LITERARY AWARD WINNER
FINALIST FOR THE PUBLISHING TRIANGLE AWARD 
Preface by Susan Stryker
Additional information
| | |
| --- | --- |
| Weight | 1.6 lbs |
| Format | eBook, Paperback |
We Both Laughed In Pleasure: The Selected Diaries of Lou Sullivan narrates the inner life of a gay trans man moving through the shifting social, political, and medical mores of the second half of the 20th century. Sullivan kept comprehensive journals from age eleven until his AIDS-related death at thirty-nine. Sensual, lascivious, challenging, quotidian and poetic, the diaries complicate and disrupt normative trans narratives. Entries from twenty-four diaries reveal Sullivan's self-articulation and the complexity of a fascinating and courageous figure.
Praise
We Both Laughed In Pleasure brings to vivid life the many journals left behind by queer transcestor Lou Sullivan. This finely edited collection pulls out threads like gender self-determination, illicit queer sexual desire, and relationship woes that span his entire life. The volume reads like an open letter written for future queer trans people longing to understand their identities and experiences across time and space.
Details
Timeless, Infinite Light
ISBN: 9781643620176
Paperback, 440 pages, 6 x 8
Publication Date: 09/24/2019
Reviews
We Both Laughed in Pleasure is necessarily provisional and condensed; the editors acknowledge they have "prioritize[d] the intangibles of Sullivan's San Francisco, tracing his worldly pleasures and ephemeral expressions of identity." And yet given how many contemporary trans narratives are rooted in trauma, their choice to foreground trans pleasure and sensuality is celebratory, even radical.