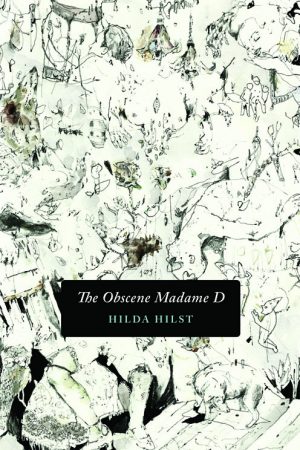 The Obscene Madame D
The English-language debut of one of Brazil's leading writers of the twentieth century
$14.95
Permanently Out Of Print
Additional information
| | |
| --- | --- |
| Weight | .6 lbs |
| Dimensions | 5.8 × .5 × 8.5 in |
The Obscene Madame D is the first work by acclaimed Brazilian author Hilda Hilst to be published in English. Radically irreverent and formally impious, this novel portrays an unyielding radical intelligence, a sixty-year-old woman who decides to live in the recess under the stairs. In her diminutive space, Madame D—for dereliction—relives the perplexity of her recently deceased lover who cannot comprehend her rejection of common sense, sex, and a simple life, in favor of metaphysical speculations that he supposes to be delusional and vain.
Praise
If Lispector's psychotic heroines careen towards Mars, Hilst's Madame D, in her flight from the body's "unparalleled glimmer", implodes. Her god is too small, too obscene to halt her descent into Hell. This brief, lyrical and scalding account of a mind unhinged recalls the passionate urgency of Artaud and de Sade's waking dreams in which sex and death are forever conjoined and love's "vivid time" irretrievably lost.
Details
ISBN: 9781937658069
paperback, 80 pages, 5.5 x 8.5"
Publication Date: 2012
Reviews
The recipe for the work of the Brazilian author Hilda Hilst (1930–2004) is equal parts language and nonsense, obscenity and literary references, disparagement of writers and striving toward God.