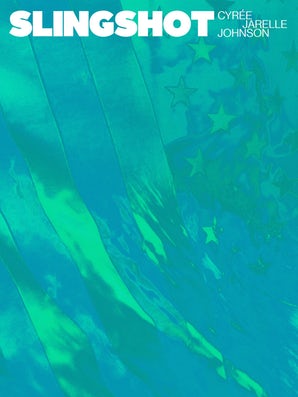 SLINGSHOT
SLINGSHOT questions the value of manhood, the price of sex, and the possibility of liberation.
$9.99 – $16.95
2020 LAMBDA LITERARY AWARD WINNER
Additional information
| | |
| --- | --- |
| Weight | 0.5 lbs |
| Format | eBook, Paperback |
SLINGSHOT begins with the author ensconced in the menacing isolation of the pastoral, but once the work migrates to the City, monstrum grows form and fangs. In these messy, horny, desperate poems spun from dream logic, Cyrée Jarelle Johnson considers the consequences of black sexual and gender deviance, as well as the emotional burden of being forced to the rim of society, then punished for what keeps you alive.
Praise
Cyrée Jarelle Johnson writes us into a magnified intimacy, a textured devastation, a web that can be stretched, folded and replanted in a backroom, on the subway, and between lungs. SLINGSHOT establishes the conditions for its readability by entangling us in its refusals. Its density drags us across the riverbed of language with unforgiving and unapologetic force.
Details
ISBN: 9781643620091
Paperback, 80 pages, 6 x 8 in
Publication Date: 09/17/2019
Reviews
Some a few pages long, and some untitled, the poems present themselves as homemade weapons (like slingshots) against malign parents, authority figures, structural racism and fears of the other. It's challenging work, in its language, its stories, its subcultural references ("prince died for fem bois"), yet it offers pellucid queer intimacies.