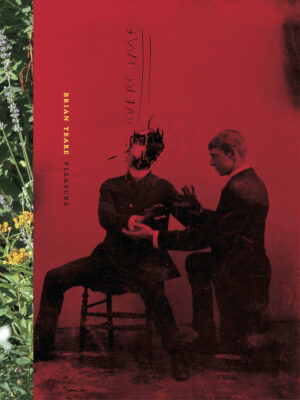 Pleasure
Now available for purchase from Nightboat!
$17.50
2011 Lambda Literary Award Winner
2011 Northern California Book Award Finalist
2011 PEN/West Award Finalist
Like Tennyson's In Memoriam, Teare's book sees within a personal loss evidence of an epochal shift at work, a shift at once historical, political, and cosmological. Asserting the lover's body as a lost Eden, revisiting again and again the narrative of "the fall"—its iconic imagery as well as Gnostic reinterpretations—the book also records the eventual end of mourning and a return to the ecology not of myth but of the literal weather and landscape of California. The book is haunted throughout by the task of "writing the disaster" of AIDS; its lyrics link emergency to inquiry in an attempt to make a memorial "in language sufficient/to pain : not in itself the world : the thought of it."
Details
Ahsahta Press
ISBN: 9781934103166
Paperback, 88 pages, 6 x 8 in
Publication Date: 09/15/2010
Reviews
Brian Teare's Pleasure is an elegy, but what has been lost, what has been annihilated, is not only the beloved taken by death, but also the speaker's blindness to the denial that allowed him to live without the awareness, in every moment, of death. Teare faces the facelessness that is our truest madness. At the crux of this crisis, where the Eden of the old symbolic order has failed him, the speaker has found an uncanny, death-evoking sensuality.