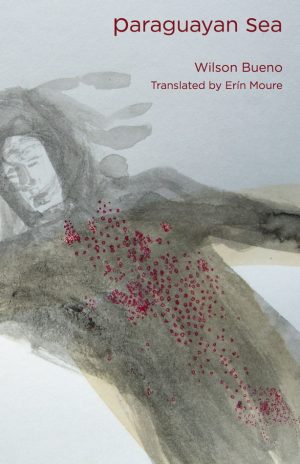 Paraguayan Sea
Paraguayan Sea, a sublime love tale of border and gender travestias, moves in a language that defies immigration regulations
Poetry
,
Translation
,
Intergenre
$15.95
Additional information
| | |
| --- | --- |
| Weight | 0.3375 lbs |
| Dimensions | 5.4 × .4 × 7.4 in |
Originally written in Portunhol—a Spanish-Portuguese mix from where Brazil and Argentina border Paraguay—with Guaraní, Bueno's Paraguayan Sea is a homage to life, to being embodied, to border crossing, and to language itself. Who is its Paraguayan narrator who has loved two men, old and young, in a hot/cold beach town in Brazil? A woman, as she says? A gay man switching pronouns? Paraguayan Sea is a river-to-the-sea of identities and migrations, its Portunhol translated into Frenglish by the polylingual poet Erín Moure.
Praise
Reader, open this book and you'll be ensorcelled by a signal linguistic music, through which the sounds of national, intra- and cross-national languages scurry pell-mell alongside and through each other, oh world with its borders thrown open, giving rise to one of literature's unforgettable poetic seductions. The curious noises that issue (silently or not) from your reading lips, the novel muscular contractions of your throat and mouth, will startle your being into thrilled wakefulness. The poet-translator born to invent Wilson Bueno's work in a version satisfying enough to infect English with living, visionary generosity and such intimate foreignness is certainly Erín Moure.
Details
ISBN: 978-1-937658-74-8
Paperback, 112 pages, 5.5 x 8.5"
Publication Date: 2017
Reviews
"Over the past decade or so, Erín Moure has become just as well-known for her translation work as for her own writing. She has published sixteen books of poetry, a book of essays, and has translated fifteen volumes of poetry from French, Spanish, Galician, and Portuguese by poets such as Nicole Brossard (with Robert Majzels), Andrés Ajens, Louise Dupré, Rosalía de Castro, Chus Pato, Fernando Pessoa, as well as a chapbook of poems from Ukrainian by Yuri Izdryk (with Roman Ivashkiv). Her work in Canada has received the Governor General's Award, Pat Lowther Memorial Award, A.M. Klein Prize twice, and has been a three-time finalist for the Griffin Prize. Her latest translations are from the French of François Turcot, My Dinosaur (BookThug, 2016); and from the Galician of Chus Pato, Flesh of Leviathan (Omnidawn, 2016); Rosalía de Castro, New Leaves (Small Stations, 2016); and Antón Lopo; Distance of the Wolf: A Biography of Uxío Novoneyra (Fondación Uxío Novoneyra, 2017). A major retrospective of her poetry, Planetary Noise: Selected Poetry of Erín Moure, edited by Shannon Maguire, appeared in 2017 from Wesleyan University Press. This fall, her translation of Wilson Bueno's Paraguayan Sea will appear from Nightboat Books, and New Star Books will publish her memorial to a little man, Sitting Shiva on Minto Avenue, by Toots."