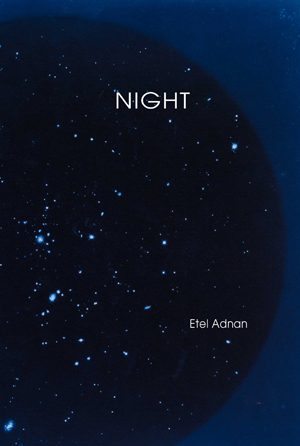 Night
A luminescent new book by one of our leading innovative writers
$9.99 – $13.95
Additional information
| | |
| --- | --- |
| Weight | .2 lbs |
| Dimensions | 5.5 × .2 × 8.2 in |
| Format | eBook, Paperback |
Etel Adnan's evocative new book places night at its center to unearth memories held in the body, the spirit and the landscape. This striking new book continues Adnan's meditative observation and inquiry into the experiences of her remarkable life.
Details
ISBN: 9781937658533
paperback, 56 pages, 5 1/2 x 8
Publication Date: 2016
Reviews
An undercurrent of uncertainty runs like a river through these pages where the physical movements of the world are paralleled with the movements of Adnan's own brilliant mind. "Philosophy brings us back to simplicity," she writes, as she attempts with great complexity to reconcile the irreconcilable: memory's relationship to time.
Lebanese-American artist, philosopher, and poet Etel Adnan's recent publication, Night (Nightboat Books, 2016), is in equal measure a series of meditations on intersubjectivity and spirituality, and a dialogue between prose poetry and short verse. But it's a contrast to the usual songs of the self,  which emphasize intensity of feeling and an essence of the person that exists beyond the constraints of language. Night shows that language itself is more supple than reductive ideas of feeling or essence, which either instrumentalize language or try to surpass it.
The language Adnan uses is clear, although her ideas are complex. Because of this, her language can appear confusing, as if one is looking through a crystal and, seeing simultaneous refractions of light. Yet this refracted clarity compliments well her motif, night. Night, signified by darkness for Adnan, calls out for illumination or clarity. However, that illumination would be impossible without the precondition of darkness.
It's unusual to see a poet write poetry with philosophical subtlety — the diametrical opposite of the Conceptual Poets who use allegory and trompe l'oeil effects  to make a larger point. For example, Adnan writes philosophically and movingly about one of the greatest pre-modern poetic and philosophical subjects, "God":
It was also said that God was light, so that nobody and nothing could see Him. But some did. Therefore He is not light.
He resides in the night. There's an affinity between the functions of our brain and those of God. He is memory, and the brain is an agent borrowing that memory, and it functions in total darkness. Like everything divine.
What we mean by "God" is that He is night. Reality is night too. From the same night. (37)
Adnan shows that "the divine" is both transcendent and material. Although God shows "an affinity" with human thinking and action, God lives in "total darkness," without illumination, while "we" desire illumination — clarity. Adnan rejects illumination to embrace both reality and the divine in an unclear state of "total darkness."
Trained in philosophy, Beirut-born author/activist Adnan blends a meditation on the meaning of memory with memories themselves, dredged up from a long life. And surely night, her setting here, is the time for such dredging. Adnan rigorously asserts that "reason and memory move together." But she argues that "a remembered event is a return to a mystery," and her writing is eye-openingly lush, gorgeous, even surreal ("waves of roses are blanketing memory"), showing us the mind at work on its unstructured, uncertain edges. The epigrammatic ending, "Conversations with my soul" ("Why are we lonelier when/ together"), will feed even those who don't typically read poetry. VERDICT A good way for sophisticated readers to recall why they first loved verse.
A meditative heir to Nie­tzsche's aphorisms, Rilke's "Book of Hours" and the ­verses of Sufi mysticism, "Night" is an intricate thread of reflections on pain and beauty.
To "constitute spirit," as Adnan puts it — or become our best selves, as others might have it — she advocates opening our minds and memories to encounter the world, to nurture a love from our radical correspondences with the dispossessed or overshadowed:
I entered once someone's memory, I say through his brain, the seat of his illuminations. The place was planted with olive trees, and mathematical equations. On one of the trees was hanging a Van Gogh painting. The ground of that house of memory had been once the bed of a river that had run through still another person's brain. All this constitutes my spirit.
Adnan's language summons transcendent experiences, like shibboleths the poet utters to cross a room without "thinking" it. An empathy with ­other worlds has been a constant in this Arab-American's work, whether embracing Syrian immigrants and Palestinian orphans in her classic Lebanese civil war novella "Sitt Marie Rose" — essential reading to grasp our current refugee crises — or here in "Night." Adnan's collection is "a cosmic phenomenon," to borrow another phrase from the book, "elevating us far above our daily condition."
Renowned Lebanese-American writer Adnan (To Look at the Sea Is to Become What One Is) maps consciousness in a book-length poem that explores night in all its permutations. Though she is more elliptical and fragmentary here—and less narrative-driven or referential—than in previous work, these poems engage in a daring, meditative exploration of perception and her own experiences. Adnan does this with a courageous interiority that becomes universal as the text unfolds. Memory is a particularly notable leitmotif as it relates to identity, whether personal or collective. "I measure my memory of things, but not memory itself, as the present is also overflowing," she writes. These internal and societal memories lend themselves to queries about history, landscape, and the nature of consciousness. Adnan posits that memory is not a "storage room. It's not a tool for being able to think, it's thinking, before thinking." As the book progresses, memory becomes increasingly knotted with loss and mortality: "It was said that people mattered, which we did, and they lost their shine." Adnan never provides clear answers, but this prevents her wide-ranging assertions from becoming didactic; her evocative imagery and interwoven repetitions serve to create another memory—one that will linger with the reader long after the text's conclusion. (Sept.)
A fragmentary, aphoristic examination of night in all its illuminating darkness from a Lebanese-American poet who is also an admired visual artist.
There are few lives that have charted the dislocations, tectonic shifts, passions, and innumerable heartbreaks of the modern Arab world more thoroughly than Etel Adnan… She is a writer of searing, sometimes surrealist heights.
In this deep, wise book – with which a reader might spend hours or years, and not count the difference – a venerable writer and thinker continues to turn over the meaning of existence, with its loves and sorrows and inevitable deaths.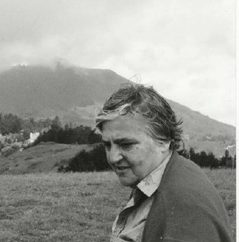 Etel Adnan was born in Beirut, Lebanon in 1925. She studied philosophy at the Sorbonne, U.C. Berkeley, and at Harvard, and taught at Dominican College in San Rafael, California …
More about Etel Adnan