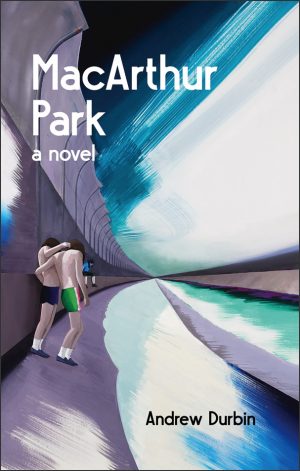 MacArthur Park
Andrew Durbin's debut novel asks what it means to belong to a place, an idea, and a time, even as those things begin to slip away.
$9.99 – $16.95
Additional information
| | |
| --- | --- |
| Weight | .9 lbs |
| Dimensions | 5.2 × .8 × 8 in |
| Format | eBook, Paperback |
After Hurricane Sandy, Nick Fowler, a writer, stranded alone in a Manhattan apartment without power, begins to contemplate disaster. Months later, at an artist residency in upstate New York, Nick finds his subject in disaster itself and the communities shaped by it, where crisis animates both hope and denial, unacknowledged pasts and potential futures. As he travels to Los Angeles and London on assignment, Nick discovers that outsiders—their lives and histories disturbed by sex, loss, and bad weather—are often better understood by what they have hidden from the world than what they have revealed.
Praise
If a reader wants to know what truly innovative contemporary American fiction looks like, Andrew Durbin's MacArthur Park offers an excellent example. Melding the essayistic and the dramatic with an ironic sheen and narrative depth that impress at every turn, Durbin shows what lies behind the public selves presented by social media, skillfully taking the social and cultural temperature of our time. The psychic devastations unleashed by Hurricane Sandy serve as a starting point for a story that carries the reader along its journey deep into the art world and queer life in the United States and abroad.
Details
ISBN: 9781937658694
Paperback, 304 pages, 5 1/4 x 8 1/4"
Publication Date: 2017
Reviews
Andrew Durbin writes prose with narcoleptic tendencies, his sentences like sleepers suddenly jerking awake. In his new novel, MacArthur Park, Durbin's protagonist Nick Fowler, a young poet who occasionally writes about art and is also working on a book, is trying to recall the details of a hookup. He knows he made out with a boy to the backdrop of a rising sun; it might have been snowing. Durbin writes, "All winter I kept thinking that it was snowing, though it was often too warm to stick or seemingly too cold to snow, and so the silver-gray clouds, like the underbellies of fish, kept their close, mindful distance, always refusing to break out of their steady overhead stream into an event. The weather did not like to make itself understood." But Durbin does. His character's interiors are well-lit, even during blackouts.