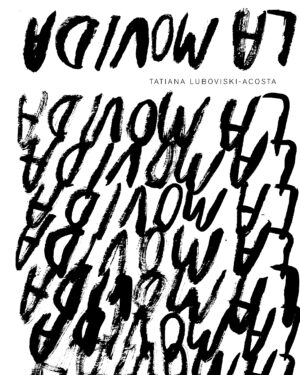 La Movida
A collection of poems that explores the radical love inherent in revolutionary work through cultural objects, adolescent affect, and queerness from within the fall of empire.
$9.99 – $16.95
Additional information
| | |
| --- | --- |
| Weight | .4 lbs |
| Format | eBook, Paperback |
Tatiana Luboviski-Acosta croons in the voice of a lovesick teenaged folklorist time traveler about revolution, housework, anti-colonialism, folk tales, post-punk, anti-fascism, anorexia, and alcoholism. Named both for the Chicana feminist concepts of revolutionary maneuvers and submerged technologies of struggle and the explosive queer punk movement that emerged in Spain during its transition from Franquist Fascism to democracy, La Movida moves from bed to street to river, defending memory and falling in love along the way.
Praise
"Tatiana Luboviski-Acosta's La Movida is an ecstatic shriek, a horror-feminist wail-song bellowing from a dark pit, where the ones covered in lucent blood vibrate with the eros of insurrection. Witchy, unapologetic, mythic—these incandescent poems avow, with a queer punk irreverence, the dismembering force of desire and the revolutionary potential of anti-colonial vengeance. Let yourself be cut by Luboviski-Acosta's razor-sharp verse."
Details
ISBN: 9781643621463
Paperback, 104 pages, 6 x 7.5 in
Publication Date: July 12, 2022
Reviews
Inspiration: handy stuff, if you can find it. Tatiana Luboviski-Acosta secured theirs in the revolutionary struggles of Chicana feminists and Spain's Post-Franco queer punk movement, so this collection doesn't play nice with fascists and colonizers.