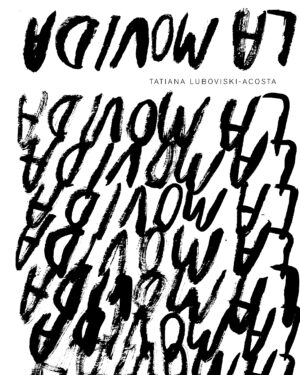 La Movida
A collection of poems that explores the radical love inherent in revolutionary work through cultural objects, adolescent affect, and queerness from within the fall of empire.
$16.95
Tatiana Luboviski-Acosta croons in the voice of a lovesick teenaged folklorist time traveler about revolution, housework, anti-colonialism, folk tales, post-punk, anti-fascism, anorexia, and alcoholism. Named both for the Chicana feminist concepts of revolutionary maneuvers and submerged technologies of struggle and the explosive queer punk movement that emerged in Spain during its transition from Franquist Fascism to democracy, La Movida moves from bed to street to river, defending memory and falling in love along the way.
Praise
"Both raw & elegant, Tatiana Luboviski-Acosta's La Movida embraces the vulnerability of the individual who finds strength in collective struggle. Whether driven by 'desire, or / the agonizing pleasure / of self-torture,' here, they exist 'in complicated love.' Here, they know no 'better / way to deal with a broken / heart than a riot.' Here, 'virgo could be / [their] gender, or / it could be [their] sexuality.' Among marigolds, razors, crystal balls and natal charts, Luboviski-Acosta recovers the potency of the wail of La Llorona, a 'wail [that] will drown you, too.'"
Details
ISBN: 9781643621463
Paperback, 106 pages, 6 x 7.5 in
Publication Date: July 12, 2022
Reviews
Struggle, submission, survival.