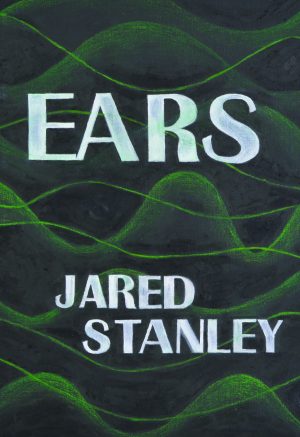 Additional information
| | |
| --- | --- |
| Weight | .35 lbs |
| Dimensions | 6 × .2 × 9 in |
The poems in Ears crackle with aplomb and verve as they try to measure the distance between the ear, an organ of touch, and the often chaotic and sometimes orderly vibrations the ears permit the body to receive; in that gap between trust and faith is this collection of poems—a devotional book that prays to the senses for mercy. It's tricky.
Praise
I like to think of Jared Stanley's Ears as a friendly rejoinder to Frank O'Hara's "Personism," a brilliant collegial corrective that places the poem not between two persons but just simply between, as open to the gritty wind off the Nevada desert as to the spy novels and hot wings of the anthropocene. Indeed, for Stanley, the poem is a form of listening to environs: an "open trick, composed of ears" whose signature magic is an enchantment that has an ethics, an enchantment that enacts "the mandate of inanimate friendship." This book is an ecological manifesto, an unembarrassed declaration of dependence and love for the world, a kind of manual for turning toward animate and inanimate others with fierce and friendly attention. "I'm pretty sure I'm a sorcerer," Stanley claims, and the necessary good work done by his poems' wayward charms convinces me he's right. Ears is magic we desperately need.
Details
ISBN: 978-1-937658-62-5
Paperback, 96 pages, 6 x 8.75 in
Publication Date: 2017
Reviews
"The / poem wasn't / supposed to be / polemic, it was / supposed to be / about ears finding / their independence / from the will," Jared Stanley writes in Ears, in which mostly declarative lines delight in their ability to hone in on small surfaces and then swerve out again to deliberative and sweepingly observational registers.