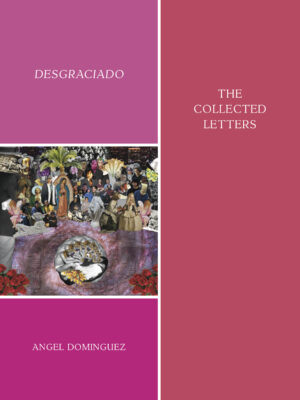 Desgraciado (collected letters)
A collection of epistolary poems that exorcise and explore the material violence and generational trauma of colonization and systemic racism stored within queer Latinx memory.
$17.95
In DESGRACIADO, Angel Dominguez navigates a visceral constellation of language and memory, illuminating the ongoing traumas of misremembered and missing histories, and their lasting impacts. Dominguez unravels a critical and tender language of lived experience in letters addressed to their ancestral oppressor, Diego de Landa, (a Spanish friar who attempted to destroy the written Maya language in Mani Yucatán, on July 12th 1562), to articulate an old rage, dreaming of a futurity beyond the wreckage and ruin of the colonial imaginary. This collection doesn't seek to heal the incurable wound of colonization so much as attempt to re-articulate a language towards recuperation.
Praise
"Desgraciado takes the embers of the colonizer, the knowing and people they attempted to extinguish, and chooses to 'press on with ancestral compass disarming my enemy with language.' A relentless re-imagining of an epistolary series that never looks away while staring into the eyes of the murderous. Dominguez invokes a portal, tracing the crimes of 1562 Mani Yucatán to the present, all while holding 'a mess of flowers' that have survived pyre and empire. These words are incantations, ransoms, clapbacks, curses, intimacies, provocations, and remedies that reveal themselves as navigational cyphers guiding us toward a language and future of liberation."
Details
ISBN: 9781643621142
Paperback, 120 pages, 6 x 8 in
Publication Date: February 2022