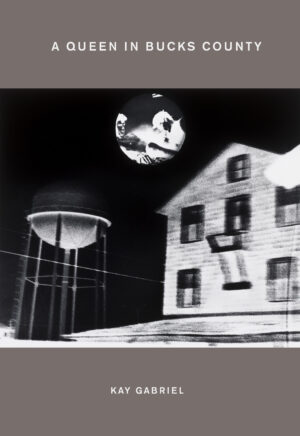 A Queen in Bucks County
An epistolary sequence about sex, exchange and social space set along the Northeast Corridor.
$17.95
In A Queen in Bucks County, our protagonist Turner, who both is and is not the writer, makes his pleasurable way through miserable space. Men "buy him things," lovers drive across state lines, users down volatile cocktails to see what happens, landlords turn tenants out, and Turner writes poetic tracts to friends about it. Part pornography, part novel, all love letter, A Queen in Bucks County is an experiment in turning language upside down to see what falls out.
Praise
Spiked and sparkling by turns, Turner and Kay turn keys, rev.
Details
ISBN: 9781643621494
Paperback, 104 pages, 6 x 8 in
Publication Date: November 8, 2022
Reviews
The cachet of Bucks County goes beyond booze and blues: The collection sparkles with revolutionary verve. […] Gabriel's vision of the future works because it's not an idyll of free love and endless sunshine—but a world where the pleasure of leisure has become banal reality. Bucks County gives us concrete aspirations cloaked in rail yard glamor and glitz.