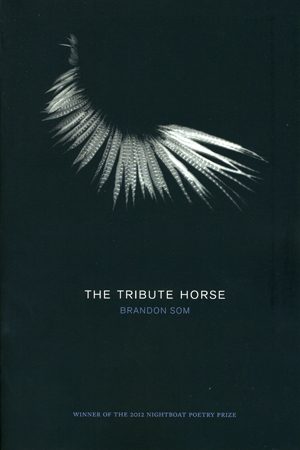 The Tribute Horse
Nightboat Poetry Prize Winning debut from Brandon Som
$15.95
Additional information
| | |
| --- | --- |
| Weight | .5 lbs |
| Dimensions | 6 × .2 × 8.8 in |
Brandon Som's The Tribute Horse unearths strange knowledge about the ways migration acts upon and is affected by a body's language, culture, perception and physical manifestations. Using found text, prose poem and Oulipian narrative, Som constructs a poetry deep in its theoretical rigor, ravishing in its sonic pleasure, and delicate in its formal constructions, drawing from various sources, including Chinese painting, Japanese photography, and narrative of immigrants through Angel Island, including that of his own grandfather.
Details
ISBN: 978-1-937658-18-2
paperback, 104 pages, 6 x 9 in
Publication Date: 2014
Reviews
The Tribute Horse is riotously alliterative and full of assonance. In a line like this from "Seascapes": "They say in certain shells/ you still hear the sea…" Yau's observation becomes like fact. We can hear the hiss of the waves through the soft consonant repetition. Irresistibly, the poetic line stows away in the procedural memory—which is the part of our brains that remembers music no matter how old we become.