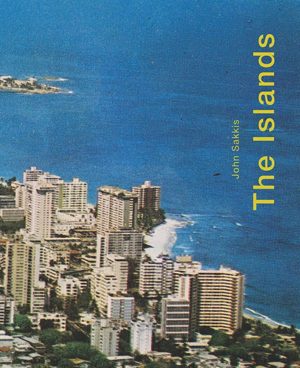 The Islands
In John Sakkis's new book, hip hop and biography, both real and imagined, saturate travel on the islands
$15.95
Additional information
| | |
| --- | --- |
| Weight | .4 lbs |
| Dimensions | 6 × .5 × 7.5 in |
Praise
The Islands is melos, music in 5-part harmonic sequences, beginning with the once-upon-a-time of "one night, after the happily of dinner." So it's the sound of story in lyric concretion, rhythmic concision, the atmosphere of film, the senses migrating from one section to another, punning "knot exactly." This book is a nostos, a welcome home event, and will be your favorite memory palace.
Details
ISBN: 9781937658267
paperback, 88 pages, 6 x 7 1/2 in.
Publication Date: 2015
Reviews
"In Mani: Travels in the Southern Peleponnese, prose stylist and explorer Patrick Leigh Fermor discusses the persistence of archaic, pagan practices in the Greek countryside—even into the twentieth century:
Some of the great gods […] were compromised and frogmarched into collaboration. Others escaped and, quite literally, took to the hills. There, like divine maquisards, they have led a spiritual underground or close on two thousand years. […] The brushwood ancien régime, unencumbered with giveaway temples of paraphernalia, travelled light. There was nothing, on examination, but murmurs, hearsay, candlelight and shadows and the bare limestone hillside… . The overt ceremonies (which still exist) had adopted enough religious camouflage to confuse all but the most penetrating. And a few have survived quite undisguised.
That Leigh Fermor was able to appreciate this improbable but deeply human layering of cultures and times was facilitated not by his being Greek (although he was esteemed as that country's second most famous non-native war hero after the poet Byron and also lived there for many years), nor simply from his intellectual curiosity (which was always formidable) but by his simply being there. By treading the same ground irradiated with classical antiquity he was able to appreciate where and how its treasures were still buried.
In The Islands, the poet John Sakkis takes a different tack. Unlike Leigh Fermor, he sets for himself the complex challenge of viewing and understanding a sense of Greekness—and it is made all the more complicated by the fact that he is writing during the first third of the twenty-first century, after the invention of the Internet, and both oceans and continents away in California. His is a Greekness that must be felt, in the blood, albeit at first indistinctly: "a diffusion that soaks up detail." It is a sense of being Greek that serves as a catalyst for creation, that as "shadows collected in grammar / exuberantly articulate and wet in the mouth, forming portraits of strangers" embodies and enlivens, makes known at one remove."