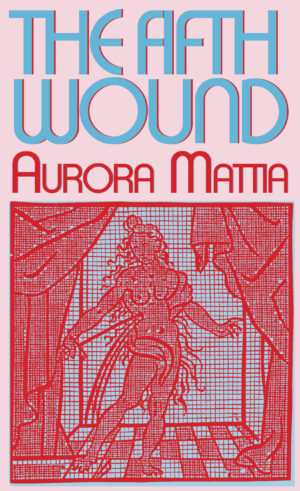 The Fifth Wound
A baroque work of intimate myth exploring one woman's interdimensional search for beauty and embodiment, through kaleidoscopic renderings of hospital corridors, brutal breakups, and passionate romance.
$17.95
The Fifth Wound is a phantasmagorical roman à clef about passion as a way of life. In one dimension, this is a love story—Aurora & Ezekiel—a separation and a reunion. In another, we witness a tale of multiple traumatic encounters with transphobic violence. And on yet another plane, a story of ecstatic visionary experience swirls, shatters, and sparkles. Featuring time travel, medieval nuns, knifings, and t4t romance, The Fifth Wound indulges the blur between fantasy and reality. Its winding sentences open like portals, inviting the reader into the intimacy of embodiment—both its pain and its pleasures.
Praise
I have never read anything like Aurora's writing. I would say less that I have read her work and say more that I have felt it, deep inside my body. It makes my heart ache. It also makes me long for a hard cock down my throat. Her work is a true spiritual experience, in that it causes me lust, grief, anger and ecstasy, sometimes one after the other and sometimes all at once.
Details
ISBN: 9781643621487
Paperback, 288 pages, 5.5 x 8 in
Publication Date: March 7, 2023
Reviews
I don't know where to place Aurora Mattia in Brooklyn. We met at Bossa—we really met before that on Twitter. She told me when we were last together that she had reworked her book around the voice she's developed on Twitter and OnlyFans. I like how contemporary that feels, even though there are delightful baroque twists in her book The Fifth Wound.