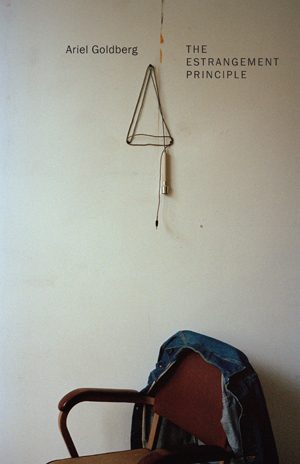 The Estrangement Principle
A book-length essay that explores landscapes surrounding the practice of categorizing "queer art."
$9.99 – $19.95
Additional information
| | |
| --- | --- |
| Weight | .7125 lbs |
| Dimensions | 5 × 1 × 8 in |
| Format | eBook, Paperback |
A book-length essay that explores landscapes surrounding the practice of categorizing "queer art."
In The Estrangement Principle Ariel Goldberg unravels the problematic label, "queer art" by consistently arguing for a wider range of associations with art made by queer identified people. Goldberg invokes the lives and works of writer Renee Gladman, and artists Jack Waters and Peter Cramer, among many others to bring the complexity of the communities and relationships behind art and literary histories into focus. This book-length essay mixes cultural criticism, close readings, and personal anecdotes, all the while developing a deftly wrought polemic. The Estrangement Principle is an exercise in contradiction with its ultimate goal being to resist the practice of movement naming.
Details
ISBN: 9781937658519
paperback, 304 pages, 5 x 7 "
Publication Date: 2016
Reviews
Goldberg's critical engagement is far-reaching, often uncomfortable, and incredibly engaging. A worthwhile read to see how the language we use can be both inclusive and exclusive, political and sincere.