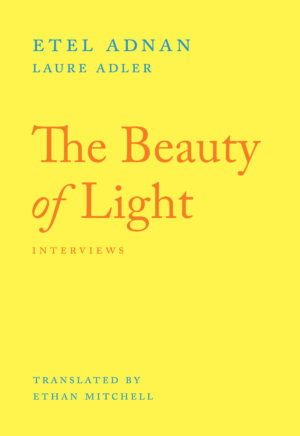 The Beauty of Light: Interviews with Etel Adnan
A lively and spontaneous interview with Etel Adnan about her absolute belief in the beauty of the world, the beauty of art.
$17.95
In these interviews conducted by journalist Laure Adler, poet and painter Etel Adnan recounts the foundational experiences of her artistic approach shortly before her death in Autumn of 2021. From her youth in Lebanon, through her years in New York and California, and her late-in-life discovery at Documenta in 2013, this intimate conversation revisits and questions the sometimes difficult destiny of women.
Read an excerpt from The Beauty of Light in The Paris Review.
Details
ISBN: 978-1-643-62211-8
Paperback, 144 pages, 5.5 x 8 inches
Publication Date: February 20, 2024