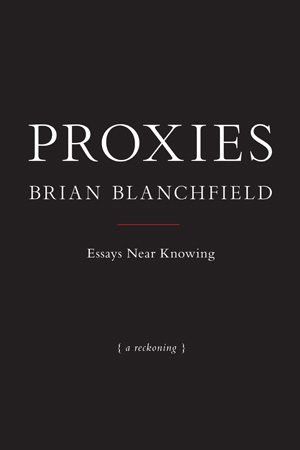 PROXIES:
A go-for-broke essay collection that blends cultural close reading and dicey autobiography.
$9.99 – $18.95
Additional information
| | |
| --- | --- |
| Weight | .6 lbs |
| Dimensions | 5.5 × 1 × 8.2 in |
| Format | eBook, Paperback |
Past compunction, expressly unbeholden, these twenty-four single-subject essays train focus on a startling miscellany of topics —Foot Washing, Dossiers, Br'er Rabbit, Housesitting, Man Roulette, the Locus Amoenus—that begin to unpack the essayist himself and his life's rotating concerns: sex and sexuality, poetry and poetics, subject positions in American labor (not excluding academia), and his upbringing in working-class, Primitive Baptist, central-piedmont North Carolina.
In Proxies an original constraint, a "total suppression of recourse to authoritative sources," engineers Brian Blanchfield's disarming mode of independent intellection. The "repeatable experiment" to draw only from what he knows, estimates, remembers, and misremembers about the subject at hand often opens onto an unusually candid assessment of self and situation. The project's driving impulse, courting error, peculiar in an era of crowd-sourced Wiki-knowledge, is at least as old as the one Montaigne had when, putting all the books back on the shelf, he asked, "What do I know?"Listen to Brian Blanchfield read from and speak about Proxies on KCRW's BOOKWORM.
Praise
Maybe short says it best. Sexy book.
-EILEEN MYLES
Early on his humble and stunning Proxies, Brian Blanchfield asks: "In what kind of place is all the hearing overhearing?" He knows, mostly we eavesdrop on ourselves. We call it thinking. There is no delicacy of mind like that one that moves through the facts of its own errors to arrive at understanding, and here, essay by essay, Blanchfield sifts through the astray archive of his memory to recall what all it is he needs to live. These essays remind us, as they discover inside themselves, the deep virtue of saying, "I don't know."
-DAN BEACHY-QUICK
Brian Blanchfield's sentences are modern marvels.  They coil, insinuate, embellish—and then land on the tender spot.  If Hart Crane had survived to write a book of autobiographical essays, it would resemble Proxies—but would Hart have given us the low-down on frottage?  Blanchfield is a staggeringly accomplished stylist, whose artful elucidations deserve to be savored, studied, and, yes, worshipped.
-WAYNE KOESTENBAUM
Proxies: Essays Near Knowing brings a slowed-to-meaning lens to the remembered moments of a life. Blanchfield's readers wander into his ordinary-extraordinary quotidian—the vulnerable longing of a singular voice expressing a peopled intelligence. Not since Hilton Als's White Girls have I read anything as interrogative, unsettling, and brilliant.
-CLAUDIA RANKINE
Into what some are calling a new golden age of creative nonfiction lands Brian Blanchfield's Proxies, which singlehandedly raises the bar for what's possible in the field. This is a momentous work informed by a lifetime of thinking, reading, loving, and reckoning, utterly matchless in its erudition, its precision, its range, its daring, and its grace. I know of no book like it, nor any recent book as thoroughly good, in art or in heart.
-MAGGIE NELSON
The quiet but searing vulnerability in Brian Blanchfield's writing is as wide and trembling as the wingspan of his otherness. He writes with a beguiling sagaciousness that made me bow my head so many times that I lost count. These are essays about honesty and the revelation of self in which shame and guilt are dissected and anything extraneous scrubbed away. Each sentence is a live wire. Diverse, maybe mismatched styles, genres and topics accrue to great and moving effect, a profound whole made from an unlikely assemblage of parts. He appears to be forging a new genre before your very eyes.
-WHITING AWARD CITATION
Details
ISBN: 978-1-937658-45-8
paperback, 200 pages, 5 1/2 x 8 1/2 in
Publication Date: 2016
Reviews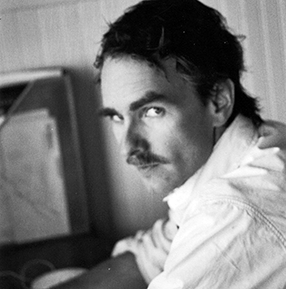 Brian Blanchfield is the author of two books of poetry, Not Even Then and A Several World, which received the 2014 James Laughlin Award and was a longlist finalist for …
More about Brian Blanchfield