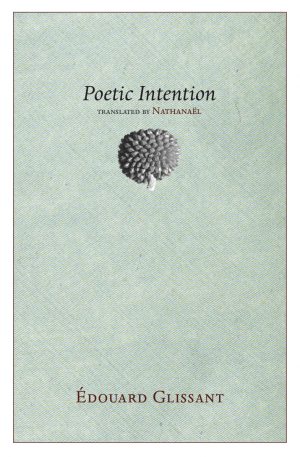 Poetic Intention
Translation
,
Intergenre
,
Essay
$19.95
Additional information
| | |
| --- | --- |
| Weight | .65 lbs |
| Dimensions | 5.2 × .8 × 8 in |
This marks the publication of the first English-language translation of Poetic Intention, Glissant's classic meditation on poetry and art. In this wide-ranging book, Glissant discusses poets, including Stéphane Mallarmé and Saint-John Perse, and visual artists, such as the Surrealist painters Matta and Wilfredo Lam, arguing for the importance of the global position of art. He states that a poem, in its intention, must never deny the "way of the world." Capacious, inventive, and unique, Glissant's Poetic Intention creates a new landscape for understanding the relationship between aesthetics and politics.
Details
ISBN: 9780982264539
paperback, 248 pages, 5 x 8 in
Publication Date: 2010
Reviews
Poetic Intention is somewhat a rattlebag in that it collects essays, many of which the translator, Nathalie Stephens, notes were written between 1953 to 1961 and appeared as "partial publications" (233) in Les lettres nouvelles and in texts of the publisher Galerie du Dragon before Seuil published the monograph in 1969. It is primarily through the poetics of relation that the idea of poetic intention — the title to one section of essays — comes into play as a critical concept.
A poetics of relation is Glissant's theory of the possibility attendant upon a re-alignment of cultural imagination; it comes hand in hand with his critique of Western discourse's monopolizing intents, in History, with a capital H, and the ways by which Western political agency have used their self-centered (and -serving) epistemologies to justify their often unconscionable and otherwise lazy and chauvinistic practices against the rest of the world…
Beyond this comes the poetry of his language. While the text features a variety of modes, from the knotted language of French critical/creative theory, to the sparseness of abstract allegory, to the directness of personal anecdote, throughout all of this his distinct poetic voice emerges, the most salient feature of which would be his accretionary style. Think of those Russian dolls — dolls within dolls. Think of a beautiful handcrafted basket made of straw — rows upon rows encircling and extending. This is a style that matches his imperative: go to the terra incognito; listen; and through the gradual incursions of understanding, build a relation.
The text also offers an analogy pertinent for contemporary American poets. The book serves not just as a means to help reinterpret historical processes (which itself would be enough) but, should you think of the Caribbean islands as poetic enclaves and the West as the mainstream force of tradition, then you have a new context in which to apply his thinking. Community as culture.