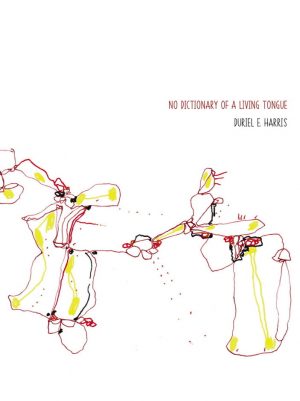 No Dictionary of a Living Tongue
$16.95
Additional information
| | |
| --- | --- |
| Weight | .45 lbs |
| Dimensions | 7 × .3 × 9 in |
No Dictionary of a Living Tongue is formidable in its explorations of art, citizenship, and life as a body amid the social, political, and electronic networks that define us, hold us together, bind us. The poems here take many forms—prose, lyric, epigram, narrative, dialogue fragment, song, musical score, fairy tale, and dictionary entry. An elegant use of sound couples with a keen and roving intelligence and a fierce commitment to social justice to create a unique and powerful collection of poems.
Praise
In this necessary new collection, Duriel E. Harris has created a primer on citizenship. No Dictionary of a Living Tongue is a living archive, collecting the muscles, senses, and narratives of a life. This is a stunning achievement, at once proprioceptive, visceral, destabilizing, and visionary.
Details
ISBN: 9781937658649
Paperback, 120 pages, 7 x 9"
Publication Date: 2017
Reviews
The power and musicality of Duriel E. Harris' poetry can strike an audience dumb. The violence in the words reveals real trauma she transforms into a transcendent experience for her readers and listeners.