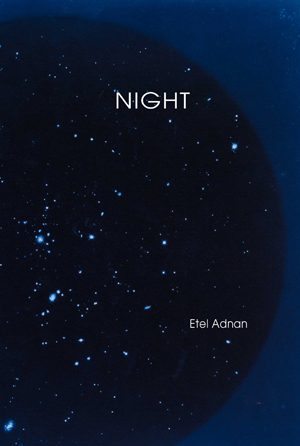 Night
A luminescent new book by one of our leading innovative writers
$12.95
Additional information
| | |
| --- | --- |
| Weight | .2 lbs |
| Dimensions | 5.5 × .2 × 8.2 in |
Etel Adnan's evocative new book places night at its center to unearth memories held in the body, the spirit and the landscape. This striking new book continues Adnan's meditative observation and inquiry into the experiences of her remarkable life.
Details
ISBN: 978-1-937658-53-3
paperback, 56 pages, 5 1/2 x 8
Publication Date: 2016
Reviews
In a landscape where genre is ever-bending, Etel Adnan brings us Night, a brief yet powerful melding of poetry, prose, and philosophy. The book is as enigmatic as night itself is, full of mystery and the unknowable, perpetually pining for and simultaneously withholding illumination. An undercurrent of uncertainty runs like a river through these pages where the physical movements of the world are paralleled with the movements of Adnan's own brilliant mind. "Philosophy brings us back to simplicity," she writes, as she attempts with great complexity to reconcile the irreconcilable: memory's relationship to time.