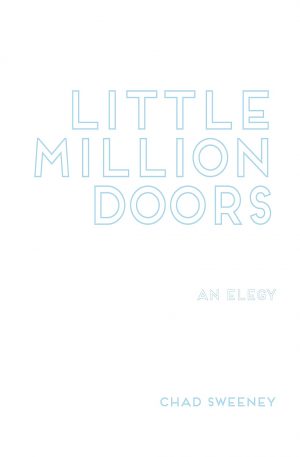 Little Million Doors
A moving poetic account of grief and record of post-traumatic stress after the loss of a parent.
$15.95
Additional information
| | |
| --- | --- |
| Weight | 0.2375 lbs |
| Dimensions | 5.5 × 8 in |
Written during an autistic breakdown after his father's sudden death, Chad Sweeney's visionary elegy for the living occupies the voice of the newly dead. Through shifting identities, genderless, omnigendered, bereft and haunted, this work affords an intimate mapping of grief—and a vision of what remains of consciousness after the body dies.
Excerpt from the book:
Praise
Still and spare, Little Million Doors is a book length series of lyrics that mourns a lost father. 
These half uttered poem prove the "possibility" of poetry to provide avenues to understanding, even amid grief, by constructing themselves loosely enough to allow both time and space to quiver within. This level of quantum energy may feel nearly ungovernable but Chad Sweeney makes it work through internal music, the most specific of images and events, and a fine tuned and innovative grammar that loops and fractures and overlaps and reforms. Perhaps ghostly but never disembodied, these lyrics feel immediate, necessary and absolutely brand new. Though elegiac they are ever hopeful and affirming and alive. 
Details
ISBN: 9781643620008 W
80 pp, 5½ x 8
Publication Date: April 2019
Reviews
My father died in his sleep just before my fortieth birthday and the birth of our first son, Liam Greenleaf Sweeney. In the weeks and months following, I suffered symptoms of post traumatic stress syndrome and autistic meltdown. Felt a strange disembodied amnesia, wandered about town, drank heavily, loss of meaning and depression, yet madly in love with our new baby boy, a profound, shocking love which oscillated between joy and grief that my father would never meet him. I was sleep deprived from staying up all night with our sleepless baby and working long hours as a PhD student and teaching fellow in the "student ghetto" of Kalamazoo, Michigan. Time drifted sidewise. My sensory integration disorder become worse and worse, part of my autism. I began writing these strange poems, or one long poem, in bursts and utterances which felt more like overhearing them or being occupied by the voice which carried with it bright visions, scenes, and sensations. I was compelled to write them quickly on anything I could grab, including napkins and receipts, to record the voice, to trace what it saw. I usually started sobbing and had to rush out of public spaces or clutch my head to contain the sensations which were nearly unbearable. I do often write in persona, which feels like overhearing the voice of the character through the length of a poem, but this was a much stronger impulse and the same voice returned again and again. I didn't have a sense of who the voice was until many days had passed, when I typed and reread the fragments and began to suspect that this was the voice of a "ghost" (for lack of a better word, though certainly unlike any "ghost" I had seen represented in literature or film). The ghost did not recall its life, gender, or identity, and was haunted by the living, by the yearning to belong and to touch and interact. The feelings that inhabited me were truly heartbreaking, beautiful, passionately sorrowful and joyful at the same time. I continued to trace the voice through the coming weeks until it entirely ceased. I thought it might be my father speaking, yet oddly enough, this feeling of "ghost" serves equally to trace or to express my sense of dislocation, joy/terror, disconnection as an autistic person in the world.