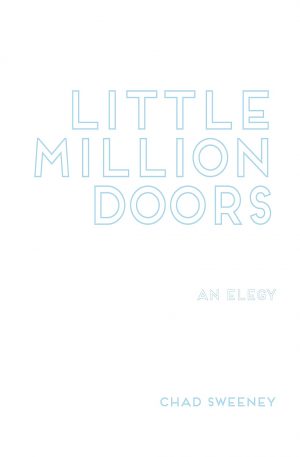 Little Million Doors
A moving poetic account of grief and record of post-traumatic stress after the loss of a parent.
$15.95
Winner of the 2017 Nightboat Poetry Prize!
Additional information
| | |
| --- | --- |
| Weight | 0.2375 lbs |
| Dimensions | 5.5 × 8 in |
Written during an autistic breakdown after his father's sudden death, Chad Sweeney's visionary elegy for the living occupies the voice of the newly dead. Through shifting identities, genderless, omnigendered, bereft and haunted, this work affords an intimate mapping of grief—and a vision of what remains of consciousness after the body dies.
An excerpt from the book can be found here.
Praise
Still and spare, Little Million Doors is a book length series of lyrics that mourns a lost father. 
These half uttered poem prove the "possibility" of poetry to provide avenues to understanding, even amid grief, by constructing themselves loosely enough to allow both time and space to quiver within. This level of quantum energy may feel nearly ungovernable but Chad Sweeney makes it work through internal music, the most specific of images and events, and a fine tuned and innovative grammar that loops and fractures and overlaps and reforms. Perhaps ghostly but never disembodied, these lyrics feel immediate, necessary and absolutely brand new. Though elegiac they are ever hopeful and affirming and alive. 
Details
ISBN: 9781643620008 W
80 pp, 5½ x 8
Publication Date: April 2019
Reviews
Like a hurricane of images, or a tsunami of grief, Sweeney's lines strain against a background of stability and coherence that barely holds together. The book is an elegy not only because the title tells us so, but because it performs its elegiac ritual without the filter of conventional form or syntactical coherence. If grief is inchoate, the poet asks, what language is sufficient to the duty it is called upon to perform? The answer is a language suddenly released from its duties to inform or to persuade—functions of containment, framing, and interpretation—a non-syntax left to its singular capacity to conjure the ineffable, to bring it into being.