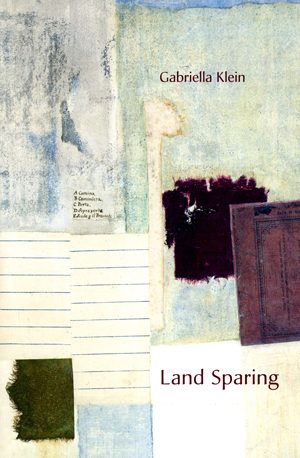 Land Sparing
Winner of the Nightboat Books Poetry Prize
$15.95
Additional information
| | |
| --- | --- |
| Weight | .4 lbs |
| Dimensions | 5.9 × .3 × 9 in |
In a series of poems quiet but savage—in the many senses of that word—Gabriella Klein lays bare the prospects of an individual in times of ecological and personal upheaval. These poems are gyroscopic, telescopic, microscopic. Insects and universes each are as grand and intimate as the other.
Praise
In Land Sparing, the human and the planet are in a relationship, neither theoretical, biological nor even spiritual but an actual relationship: personal, erotic, possessive and tender. The stars, the forest, mud, a daughter, the Chinook wind, a honeybee, the sea, a universe—they all have as much agency and presence in this work as the poet/speaker herself. In couplet, stanza and monostich, Gabriella Klein gathers together all her kind-hearted faculties. She is brave enough to be desperate, agitated, wrecked, in love. There is a music so grounded yet so light that one wants to believe this tricky and fraught relationship is going to survive even against what seem now like steep odds indeed.
Details
ISBN: 978-1-937658-32-8
paperback, 88 pages, 6 x 9 in
Publication Date: 2015
Reviews
"GABRIELLA KLEIN'S Land Sparing, (Nightboat, 2015), winner of the 2013 Nightboat Poetry Prize, is astoundingly heavy—a jewelry box full of gold ingots. The title is an agricultural term: farming practice specifying intense cultivation of available land sparing outlying areas for biodiversity. Klein intensely farms her own body and what touches it: The universe was initially all hydrogen, / pure longing. Cosmology's original sin. / Charge parity, symmetry, once violated, / is impossible to regain. / Mostly you break your own heart. Here's a rich haul of science and death, longing, surrender, psychic entropy, all with a deeply erotic sweep with notes of sorrow and loss, to tender-wise acceptance. "The Firmament" continues:
All matter is supposed to equal anti-matter 
but it doesn't. Those laws are lawless. 
I mistook you for midnight,
the listing trees. But who is to say. 
Boron, carbon, nitrogen.
The night was spaceship silver
with white owls in the oaks. 
We were lying in the leaves, in the stars. 
Klein is earth-struck, star-struck, lovestruck, grief-struck. Poetry books are often memoirs of a keenly observed, deeply felt life and we often get a self-portrait of the author. Klein seems to be the living and dying of it all herself, and while drawn into her enigmatic, intense story, her magic is to enlist the reader for fellow traveling through the mystery of shared, overwhelming reality. As she nobly orients her way toward the last line, You and I and the grass will grow,  her art has become of us — recognition shock that in this indivisible world, all breathing together, we are the elements and stars themselves having an awfully human experience toward apotheosis. Klein seems flung with hurricane debris of the land and the ships at sea and one experiences her often fragmentary lines as taxonomy of her startled parts— "Virgin Forest":
Wind in a low moan
like ghosts in the thousands.
Inelegant vapor.
Like I opened a sieve.
Given the circumstance.
Like a primer.
I erase all my mistakes.
He was improbable.
I waited on him
all summer
long.
It began, one day
he sat under the patio
umbrella having
drinks. Drinks. Having drinks. 
It is telling in his citation statement that the competition judge, the eminent Kazim Ali, and all the fine reviewers cited on the book jacket, seem to be babbling through effusive and impressive comments. They are utterly taken by this book, yanked onto Klein's boat eyes blinking, mouths working—they're gobsmacked. I was snatched from my bed at 3:33am toward my library for Samuel Beckett's Waiting for Godot and the recent Shaping Water  (Gunpowder Press, 2015), Barry Spacks' posthumous blessing, after clinging to Klein's first book a week, filling back pages with notes, reading poems again and again, rowing toward my Eureka moment. I was captured by another Santa Barbara poet who lives among us with family after an MFA at Vermont College of Fine Arts—Calves in a night dark barn. / March light through the cracks. / I don't miss the wind / off the lake. 
Estragon has first and last lines of the seminal Waiting for Godot: Nothing is to be done, and the final, Yes, let's go, followed by the last stage direction, They do not move. Klein's poetry and Beckett's play are kindred texts. Godot is terribly spare, postmodern, post-Death Camp, and yet in the second act the dead-looking tree, the sole landscape feature sculpted by Giacometti, has sprung four or five leaves. Klein's landscape is decidedly lush yet she shares Beckett's tongue—"Inter Alia":
Define a forest. The men who meant to. 
The houses I have lived in and left . 
With unnatural affection for the warped glass. 
The waves sound like the freeway
and the cars mimic the sea. 
We are living on a pain and pleasure planet. 
I have countries to see. 
I insisted, Earth,
upon your kinship.
Have I written sufficiently? We are all talk.
Jody Gladding's blurb reads, "Land Sparing seems to issue from a remnant species of startling, heartbreaking intelligence." From Barry Spacks' book—"A Drum": . . .simply declare: I am empty, Lord, / I am a drum for your hand. One has the distinct feeling after living with Gabriella Klein's remarkable, altering book, that she has tasted of Beckett's seared world yet picked herself up and is on the move—having been thrummed—and that we just might arrive face to face with the alleged Mr. Godot  at any moment, and know. It is thrilling to have this book and to contemplate the next."