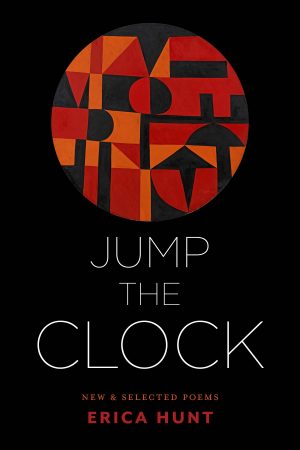 Jump the Clock
A collection by renowned poet and scholar Erica Hunt, spanning from the 1980s to the present.
$12.99 – $19.95
Additional information
| | |
| --- | --- |
| Weight | .76 lbs |
| Format | eBook, Paperback |
2021 Hurston/Wright Legacy Awards Poetry nominee!
Erica Hunt writes at the intersection of poetry and emancipatory politics—racial and gender justice, feminist ethics, and participatory democracy—showing us that altering our reading strategies frames our experiences. Ultimately, she finds that words matter, savoring the small ones: articles, pronouns, collective, plural and singular. This collection brings together out of print works and journals of the same period, to speak across "crumpled" time, the past seen from then to now.
Praise
"Jump the Clock: New and Selected Poems, an invaluable gathering of pioneering poet, theorist, teacher, and activist Erica Hunt's poetic oeuvre, is a treasure of lyric and analytic revelations and delights. A key figure in the Language Poetry movement, a pacesetter in late 20th and 21st century women's writing, and a lodestar for Black innovative writers, Hunt in this collection expands poetry's range and power and shows how to make the illegible legible. Or as she incomparably reminds us, 'What we do not dream we cannot manufacture.'"
Details
ISBN: 9781643620244
Paperback, 206 pages, 6 x 9 in
Publication Date: November 10, 2020
Reviews
Erica Hunt's Jump the Clock is eerily appropriate for a time when a pandemic has suspended the normal temporal rhythms for so many of us, while laying bare our mortally uneven relationship to those rhythms.