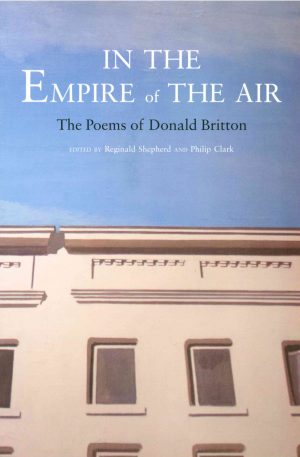 In the Empire of the Air:
An evocative and luminous collection of poems from the late Donald Britton
$16.95
The Poems of Donald Britton
Additional information
| | |
| --- | --- |
| Weight | 0.01875 lbs |
| Dimensions | 6 × .5 × 9 in |
Described as "dazzling" by Edmund White and as a poet "who has The Gift and delivers The Goods" by Kenward Elmslie, Donald Britton published just one book of poetry, Italy, before his death from AIDS in 1994. In the Empire of the Air: The Poems of Donald Britton reprints Italy alongside previously unpublished and uncollected poems to display the full range of Britton's fresh, vivid language and subtle humor. It is poetry by turns glamorous, wistful, intellectual, and elegant, the sharp-eyed observations of a penetrating mind lost to the world too soon.
Details
ISBN: 9781937658441
paperback, 120 pages, 6 x 9"
Publication Date: 2016
Reviews
Dear Doug,
What's not to love about a poet alert to "Elizabeth Taylor's chronic / lower back pain" as well as to "pornographic superstars"?
Even if Donald Britton's attentions often tugged on his sleeve until he articulated more elusive specifics, "a slab of morning " or "interior glaze" (he once explained part of his poetic drive to find "where one's words cease to comment on any experience, but become an experience in and of themselves"), his conceptual persona — sadly, I never knew the man — smiles on those, unrequited or perplexed, who pursue, in the midst of "surviving / a lot of living and shifting," the nuances of language and feeling to negotiate some kind of succor for the abrasions of consciousness. Such negotiations, call them one aspect of bodily pleasure, don't preclude or oppose actions, ethical and otherwise, however much language will do as it does. He wrote that "the mind's horniness might produce / A fresh coordination of the accents." Liz's back cradles a treatise on Spinozan privation.