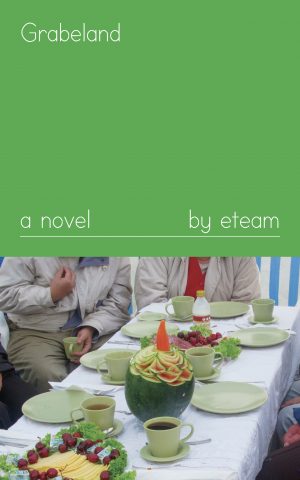 Grabeland: A Novel
An engaging art novel turned travel guide, not to places, but to worlds and ways of travel.
$9.99 – $19.95
Additional information
| | |
| --- | --- |
| Weight | 1 lbs |
| Format | eBook, Paperback |
Grabeland takes place in a country that no longer exists, in a culture rooted in soil and projections. The story tours the inner exiles of its characters as they test the limitations of their actual existence. Focusing on Germany and The United States, Grabeland dramatizes the formation of national identity and ultimately its dissolution through an accumulation of personal and collective experiences, anecdotes, accidents, propaganda, falsifications, histories, victimizations, inventions, dreams, and hopes.
Praise
I can think of no other visual artists who could synthesize their practice and emerge with a novel this good. They achieve what all art aims for—a pulse which keeps each page alive. This pulse creates a tension between the strange and the pure, between the compelling and the mundane—page-by-page it reminds me of Sebald. The few days I spent wandering its pages were precious.
Details
ISBN: 9781643620138
Publication Date: February 11, 2020
Reviews
Written as an imaginary travelogue, this novel by a two-person team of artists uses photographs and episodic scenes to explore the relationship between place and identity, lingering on Germany and the United States to look at the sources of nationalism.