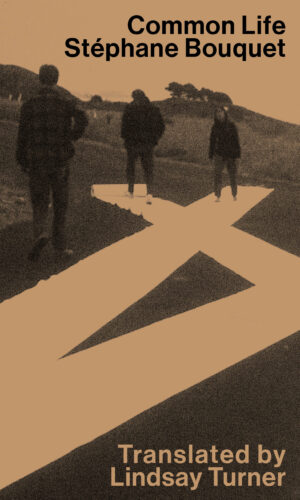 Common Life
A wry, cinematic tour through multiple forms: the poem, the vignette, the play—all set in our laughably lamentable contemporary world.
$9.99 – $16.95
In three poems, one play, and three short stories, Stéphane Bouquet's Common Life offers a lively, searching vision of contemporary life, politics, and sociality. At a moment at which the fabric of everyday social life is increasingly threatened across the globe, this book is a necessary exercise of the literary imagination: what, it asks, does it mean to inhabit the world together today?
Praise
Stéphane Bouquet is an astonishingly bold poet—at once cosmic and intimate, harsh and hilarious—and he can do it all. With elegies, dramatic dialogues, and narratives, he weaves an ever expanding schema of every day queer life. A life filled with eros and wonder and political awareness. Common Life is a multivalent tour de force.
Details
ISBN: 9781643621531
Paperback, 128 pages, 5.5 x 9 in
Publication Date: February 7, 2023
Reviews
Turner's excellent translation allows these unfailingly imaginative, intriguing, and various pages to scintillate. Readers willing for frequently dramatic shifts in form will enjoy the ride.