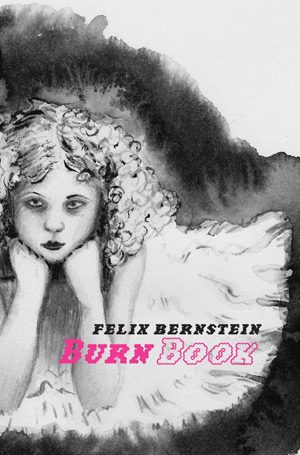 Burn Book
An irreverent and irresistible debut collection by a young artist and writer
$16.95
Additional information
| | |
| --- | --- |
| Weight | .7875 lbs |
| Dimensions | 6 × .3 × 9 in |
Artist and writer Felix Bernstein's first book of poems mordantly stages his attempt to pick between family, lovers, coteries, and solitude. Drawing on the story of child muse Eva Ionesco, Bernstein troubles the melodramatic coming-of-age story with his neurotic self-critical ruminations. Does the pouty, post-digital, coquettish boy have recourse to transgression? To answer, Bernstein rummages through the closets of his queer and familial lineages and finds many skeletons in waiting. Awkward, fragile, imposing, parodic, and earnest, these poems push brooding indifference into elegy and seduction. Burn Book, full of correspondence and confession, is an irreverent and irresistible treat for those readers who dare to be burned.
Praise
It's not Burn *This* Book, a demand for self-consuming aesthetics, but Burn Book, a book performing burns: not suicidal fires but a stream of abrasions on what represents life rather than being it. Bernstein risks the presence that comes from flinging writing into many impossible and agitated scenes. A frottage aesthetics trying to bring life back to life.
Details
ISBN: 978-1-937658-42-7
paperback, 128 pages, 6 x 9"
Publication Date: 2016
Reviews
"Burn Book by Felix Bernstein is performative; the works in the collection act. Private thought, critique, and personal narrative reside within a hyper-fabricated structure that results in a drama felt burn by burn. Antonin Artaud once defined poetry as "a dissociating and anarchic force which through analogy, associations and imagery, thrives on the destruction of known relationships". Burn Book comprises a series of burns that situate themselves in a realm of delighted destruction.  More subtly, burning represents an intensity, an all consuming force that both brightens and annihilates.  As much as Bernstein symbolically burns others, each with a dedicated section in the book, he also burns representations of himself, memory, representations of art and poetry, and representations of success.
In a series of poems titled "Make Your Own Gay Poem", Bernstein calls out this influence in a rambling manner, imitating the critique he passes on and equally takes part:
We reference the celebrity, we parody the fact that all we can do is reference the celebrity, yet we remain trapped only being able to reference the celebrity because we think we are celebrities because we are so close to the cultural capital of fame that Facebook provides us and we know we don't have to do work to attain it…"