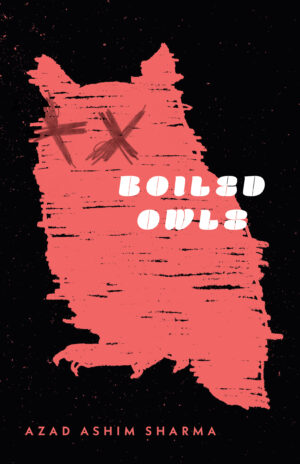 Boiled Owls
A collection of poems that demystify drug addiction, alcoholism, depression, and anxiety whilst thinking through their relation to capitalism and its resistance, the family, and a writer's compulsion to write.
$17.95
Boiled Owls refers to an old colloquialism: to be as boiled as an owl, to be drunk. Azad Ashim Sharma turns the phrase into a surrealist exquisite corpse in which the body and mind of a drug addict melt into the seams of personhood, spreading out into the wider world and recovering friends, family, love, and humor as strands of support. Troubling the dogma and pop cultural representations of twelve-step program discourse, Sharma emphasizes the mundane and non-linear aspects of recovery, ultimately positing addiction as an internalization of capitalism and recovery as the development of a socialist consciousness.
Praise
Azad Ashim Sharma is an extraordinary force and presence in the landscape of contemporary British poetry. Boiled Owls is a stunning rendition of "half imaginary geography," a presencing of recovery as a way to consider the relational logics of nation-state, embodiment, and political hope. Here is the cadence of survival, and also, of the life that comes after it.
Details
ISBN: 9781643622354
Paperback, 72 pages 5.5 x 8.5 in
Publication Date: April 9, 2024