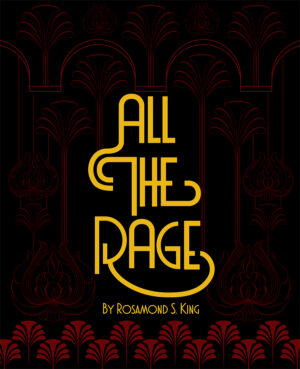 All the Rage
A new collection of poems by Lambda Award winner, Rosamond S. King, conceptualizing state violence, racism, and the persistence of Black desire, resistance, and joy.
$16.95
All the Rage addresses everyday pleasure as well as the present condition of racism in the United States—a time marked both by recurring police violence and intense artistic creativity—from a variety of perspectives: being Black, an immigrant, a woman, and queer. At its core dwells "Living in the Abattoir," a series in which people of color live out their days as both workers and meat. All the Rage simultaneously invokes both anger at ongoing systemic violence and the frivolity of something that is, perhaps temporarily, "trending."
Praise
All the Rage offers us an "etymology of scream," a music and a poetics of testimony, an imagination and a voice of survivor who asks, and responds, as survivors do: "You still here? We still here." Indeed, Rosamond S. King offers us many poetic modes, from documentary to imaginary narrative, but the truest languages of this book are music and tone that speak to us without patronizing, that tell it like it is: "America the beautiful / I am not safe." Even the familiar propaganda here is turned into music and memorable phrasing: "We will protect you by turning the army into border patrol / we will protect you by turning the national guard into the police / we will protect you by turning the police into the paramilitary / we will protect you by attacking you in your homes // we will give you a receipt for your children." Innovative and incantatory, All the Rage is first of all heart-breaking, honest. A spellbinding, inimitable book.
Details
ISBN: 9781643620718
Paperback, 112 pages, 6.5 x 8 in
Publication Date: April 6, 2021