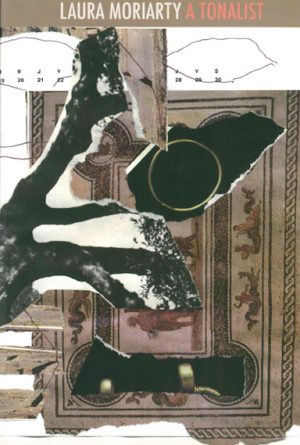 A Tonalist
Intergenre
,
Essay
,
Poetry
$14.95
Additional information
| | |
| --- | --- |
| Weight | .35 lbs |
| Dimensions | 5.5 × .5 × 7.8 in |
In a combination of discourse and lyric, paragraph and couplet, Bay Area poet and novelist Laura Moriarty explicates the poetics of a group of writers that resists categorization. This book-length essay uses the work of the California Tonalist painters to articulate new understanding and new possibilities for poetic practice.
Praise
Always synesthetic, always formally relentless, in A Tonalist, Moriarty manages to keep a penetrating ethical-philosophical inquiry alive within a lyric terrain.
Details
ISBN: 978-0-9822645-6-0
paperback, 150 pages, 5 1/2 x 8 1/2 in
Publication Date: 2010
Reviews
In A Tonalist, Moriarty bravely tries to define what she and her poetry-kin attempt to accomplish as artists.  That very action of framing immediately meets resistance as it seems every poet but herself is reluctant to be included as A Tonalist. Brilliantly, that very resistance and hesitation to be grouped reflects the A Tonalist.  Through a mixture of herding together poets such as Norma Cole, Nathaniel Dorsky, Andrew Joron, Jen Hofer and Patrick Durgin, even DJ Spooky, and a linguistic investigation of the modes of inquiry of the original tonalist painters, Moriarty presents a version of contemporary poetics which prizes color, illumination, and lyric poetry which does not forsake politics or contemporary reality.
Moriarty's definitions of A Tonalist are both achingly broad and disarmingly accurate and there are few statements of what it is to be A Tonalist without immediately undercutting the assertion. One of the closest we get is also my favorite: "Some people write lyric poetry because they just want to and think it is great.  Some write it though they think it impossible. The latter are A Tonalists."