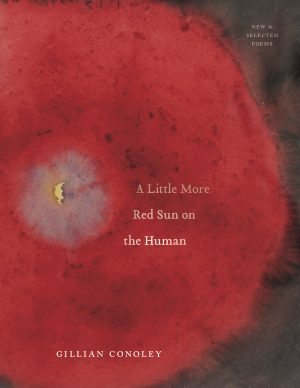 A Little More Red Sun on the Human
A selection of poems by celebrated poet Gillian Conoley that spans her arresting body of work: from the idiosyncrasies of Texas girlhood toward an encompassing inquiry into spirit and matter, individual and state.
$19.95
WINNER of the Northern California Book Awards
FINALIST for the Golden Poppy Awards
FINALIST for the California Book Awards
Gillian Conoley's new and selected poems assemble a shockingly varied body of work, comprising narrative, lyric, and fragmented forms. Her coruscating vibrant poems are informed by visual art and film, political engagement and playful linguistic constructions. Throughout, one can trace Conoley's obsessions and concerns: democracy, metaphysics, motherhood, gender and race, futurity and history.
Praise
Conoley's poems have a singular energy like an organ solo or a shotgun resorting to storytelling. She adds tool handles to our histories; a set list for our waking souls. And an instrument of self-reflection that a landscape might ponder itself with. On her page, our natures get away with nothing. All cradled by a ruthlessly loving dance of language; in her poems we meet our twins.
Details
ISBN: 9781643620114
Paperback, 296 pages, 6 x 9 in
Publication Date: 10/15/2019
Reviews
Like a movie camera panning from one spot to another, Conoley's early poems carry us into an oddly familiar world without ever landing in a well-known terrain, such as transcendent revelation. Starting out with poems set in Texas, where the poet grew up, Conoley moves – literally and figuratively – into a wider, deeper world.