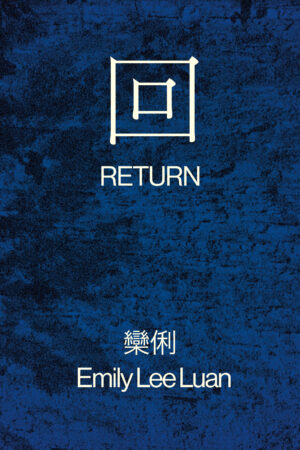 回 / Return
Through the recurrence of memory, myth, and grief, 回 / Return captures the elusory language of sorrow and solitude that binds Taiwanese diasporic experience.
$17.95
Rooted in the classical tradition of the Chinese "reversible" poem, 回 / Return is engaged in the act of looking back—toward an imagined homeland and a childhood of suburban longing, through migratory passages, departures, and etymologies, and into the various holes and voids that appear in the telling and retelling of history. The poems ask: What is feeling? What is melancholy? Can language translate either?
Praise
Emily Lee Luan's 回 / Return probes the haunted layers of racial melancholia, engaging familial tendrils of sorrow with a circularity that ultimately points to the stinging ache of no return. With gorgeous poems that breach and bridge the linguistic abyss, Luan guides us through a troubled-water poetics—"I heard the world as if through the belligerence of water"—in this sharp, prismatic and wonderfully radiant book.
Details
ISBN: 978-1-643-62174-6
Paperback, 132 pages, 6 x 9 in
Publication Date: April 2023