Resonance* began as a reaction, a response to a global call-to-action, a scrambling to articulate a rapidly changing world. And as we settle into a world in which tumult, turbulence, and transformation are everyday occurrences, we settle into the constancy of our bodies. What is similar about sound (an echo) and the body is that each requires relation.
In the previous iteration, Alma Valdez-Garcia writes, "we must be one in blood, ironpeople," in response to the prompt: What connections can we draw between the ways we cope (together), survive (together), and thrive (together)? As if in true dialogue, Asiya Wadud reverberates, "anthem and iron-rich."
Alongside our pumping hearts are our pumping lungs. Alongside our speech is our exhale. In this final Echo, contributors reckon with connection and the potency of a collective breath.
—Jaye Elizabeth Elijah, Nightboat Fellow
---
Erica Cardwell
parallels
1
I wake to thoughts of forgiveness.
A tree, relenting underneath wind,
thrust forward to join the conversation.
I forgive you every day of my life.
The lilt in your response.
It's the situation.
The pang in my throat.
I am praying for your soul,
said the little sister.
Everyone watched her forgive
only me.
Forgiveness as violence.
I want to know what the inside of my chest looks like.
Layered, mutilated, whole.
Thrumming the rhythm of letting
you get away with hurting me.
How much more before the tree breaks her back?
How much longer do I have with you?
2
My love cut through weeds in my father's backyard.
Like magic, they returned,
a fuzzy regeneration, blossoming with "no new ideas,"
as Lorde reminds.
We were on our way out when I noticed this,
when I noticed the way a weed can last forever,
a withering forest of warnings and brief delights.
Somehow this makes the wound at my core,
the one I carry and set aside for sleep,
this déjà vu, this reunion,
causes the wound to ache and wet my eyes.
I peer out of the kitchen window.
Slicing through sweet melon, I leave behind for you.
Fred Schmalz
For weeks, traffic ebbed. The porch housed a fledgling clan of finches. Pigeons tried to get in on the act, but Susy rattled them, shouting "scram!"
Electric lines fizzing. Our own pulses throbbed in our ears.
Then sirens. Then chanting and more sirens, a realigning of motion, of resonances.
Faced with a tragedy of the commons, we appear to be muddling through, holding hope that those around us take care.
It is hard not to feel we are on our own.
By April we found in a forest preserve ramp greens sprouting and a marshy lawn where a chorus of frogs a thousand strong called as they crawled over each other, the ground teeming.
The lilacs bloomed and faded. This morning, I noted that the long row of bushes behind the high school is still fragrant.
We mourn the dead around us.
In March, I spoke to a doctor who asked us to care for his children if he didn't make it through the months ahead, his body a vessel of resolve and fear.
My impulse to motion toward my people, to listen for them, rises to bursting. I reach Minneapolitans, St. Paulites, those marching up Flatbush to the Manhattan Bridge.
How close together are you? How close right now can we possibly be?
Paul Hlava Ceballos
This patient's severe heart failure
doesn't make my feet less sore
it is midnight, I hold back
a yawn on tiptoes reaching across him
his ECMO machine churns pink blood
that returns in clear tubes to his body
his fever radiates, a slow sweat bead
rolls from my armpit to waist
and then I see her there, his person
sprawled on a corner of the floor
with a glass of water by her head
and black backpack as a pillow
maybe a small suffering always lived
as compassion's tough root
before leaving, I dab with a washcloth
the clear pool gathered in his neck
outside, bubbly hearts decorate the sidewalk
drawn anatomically incorrect
but with an artistry
that makes me think of plump clouds
Rosamond S. King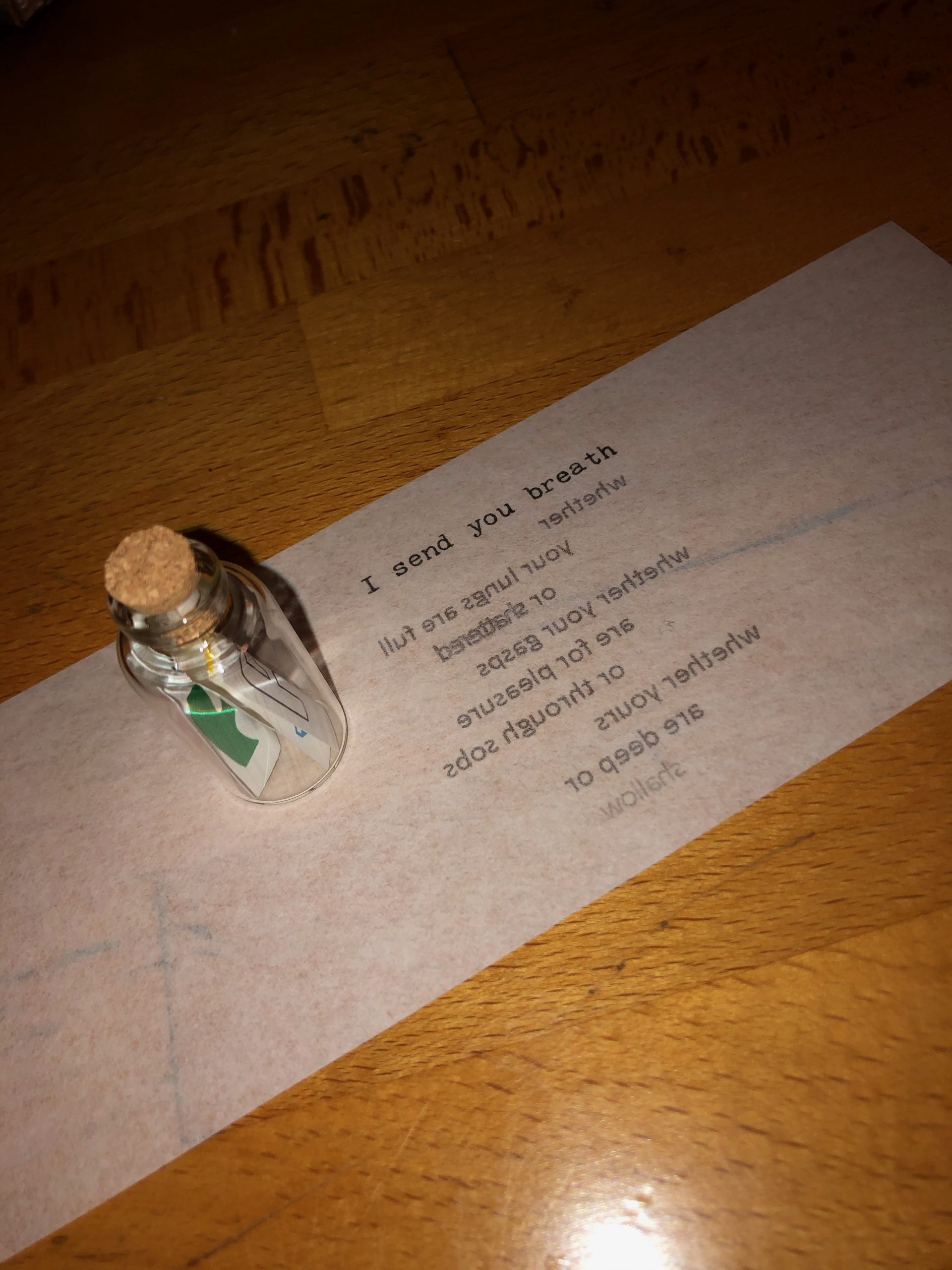 Jasmine Gibson
Before I was a poet, I was an organizer. I stopped organizing because it pulled so much from me that I could no longer recognize myself. Recent news like Oluwatoyin Salau's premature and preventable death strike me. I am not Oluwatoyin Salau, but it hurt to see a beautiful and bright 19-year-old organizer pass away. I think a way we can cope, survive and thrive together is abandoning the illusion of "over there" or "distance from event/incident x." This moment of upheaval and insurrection provides the question —"How do we protect one another?"—and the answer: that we are responsible to each other.
One's hesitancy to engage with uncomfortable conditions that lead to violence keep power dynamics and violence ongoing. The death of Oluwatoyin Salau and recent developments within NYC activist circles regarding police collaboration and the protection of sexual predators remind me of my own experiences with organizing. Both incidents call into question how we define "community." Because power is coveted within activist organizations, under capitalism, we then create the conditions for events like Oluwatoyin Salau's death to occur. Some organizations would rather seize power at the expense of empowering the Black revolutionaries that will usher in a revolutionary future.
I sometimes laugh at how Black queers aren't even welcome in organizing "spaces." If you call out harm that has been done to you, you are called "middle class" or "divisive," and if you are silent, you "waited too long to speak your truth." But when movements grow, people scramble to find the voice of "the young Black queers in the street." This see-saw of desire led to the failure of Toyin's community in her last days: the desire to witness her voice but not witness her life. This failure is still present in the ways we want young Black people to embody Black insurrection, only to be heard and seen and never cared for. The challenge I offer to everyone is to critically self-reflect on how they can abolish forms of power, white supremacy, and the state's stranglehold on our lives as a means to move toward a new present that is liberation.
Ica Sadagat
litanies for our future/now divine
(after Mark Aguhar)
fuck apologies
fuck apologists
fuck racists, abusers, and rapists
fuck trauma and the trauma from dealing with trauma
fuck oppressive traditions
fuck transphobia
fuck virginity what the fuck
fuck virtue and valor
fuck the normal
fuck your normal
fuck your normal home, your normal body, your normal nervous system
fuck your full night's rest and bottomless brunch
fuck your "i'm still learning" and useless guilt
fuck this country
fuck that i am tired of everything
fuck that you are tired over nothing
fuck the state
fuck your peace and the military
fuck fascists and good cops because fuck all cops
fuck prisons
fuck optics and the panopticon
fuck holding it in to keep it together
fuck grieving because it never ends
fuck that you are okay
fuck you for i am not
amen
BELOVED are the firestarters
BELOVED are the rude
BELOVED are the pangs wrought by exhaustion and moon
BELOVED are the terrified
BELOVED are the lazy
BELOVED are the beaten
BELOVED are the confused
BELOVED are the ever weeping, my kith and molten kin
BELOVED are the unforgiving
BELOVED are the bruised
BELOVED are the nights like years filled with panic and demons
BELOVED are those demons
BELOVED are the drowning
BELOVED are the flightless
BELOVED are the steel-bound with every or zero hope
BELOVED are those who can't escape, won't escape, will never escape
BELOVED are those tired from keeping it in to hold it together
BELOVED are those who are forced to break apart
BELOVED are the lonely
BELOVED are those who want to forget but cannot forget and won't forget
BELOVED are the forgotten:
whom i didn't remember, couldn't remember,
will learn to remember and to respect,
honor and hold
AMEN
Venn Daniel
WHAT'S NOT WHOLEHEARTEDLY VESTIGE WITHOUT THE THROW OF WEIGHT. FRIENDS TILL FAMILY TILL HERE I AM IF I GIVE YOU ALL MY FEAR, WILL YOU GIVE ME YOURS WE CAN HOLD IT. HOWEVER WE WANT WE CAN FLOOR, CANDLE, HEART, HOLE. ONLY MUTUAL CONSENSUS. US IN APPREHENSIVE US, JUST MAYBE MOUNTAIN VIEW JUST MAYBE PINK CARNATION. NEVER I, TRYING ALWAYS FOR AN EVER CHANGING. YOU AND ME ARE A SQUIGGLY LINE & I NEED SOME TIME. THINK THIS THROUGH CAN WE NEVER GO ANYWHERE ALONE, IDEA, CHAOS, CHILL, FRAME, PIVOT, STREET, PILL, CAN'T. THE FLAMBOYANT NOTHING NO WAY NO HOW, THRESHOLD. ONE STRONG NO, NOW COME. NO LONELY AIR. NO ROOM NO LANE. NO ONE WAY BOOT NO STRAP NO HOUSE NO. NO NO NO FUCK, MORE GOD DAMN PAPER WORK, WHAT BROWSERS WORK WHAT IT IS IS I WON'T TAKE YOUR SHIT. YOU NEVER DID IT ALL BY YOURSELF AND IF YOU SAID YOU DID THERE'S NO TRUST JUST BLINDING LIGHT, I WILL NOT. BUT STILL SUBMISSION. STILL JUST SITTING SOMEWHERE WAITING, PAY CLOSE ATTENTION. EMERGENCY ALERT, DON'T FORGET FILL OUT A CLAIM TILL DEATH TILL WATER TILL EMPTY DRAWER STILL OVERDRAFT STILL I DON'T CARE I LOVE YOU STILL WE WILL FIGURE SOMETHING OUT LET'S GET SOME FOOD AND WATCH THE INTERNET TILL NOT TILL YES TILL THE INFORMATION'S THERE TILL STILL, TUMULT. TILL YOU NEED SOME MILK TILL THERE'S ALWAYS YOU AND ME AND FURNITURE, SOMEWHERE ELSE IS NOT ENOUGH. AND IF WE WRITE OUR NAMES AND WRITE THEIR NAMES AND WRITE ANY WORD WE WANT TO HOLD THE WAY WANT TO LIVE AND IF WE MAKE A CALL AND IF WE DON'T WHAT WILL HAPPEN
by taking chance
breathing out entirely
I a trembling lull in weather
i impossibly transformed
by wednesday's morning
glory's
vibrant blue
in combination just one inhale
all the time
with no exception
chorus
pull
cry
(light comes, doors open)
Drue Schwartz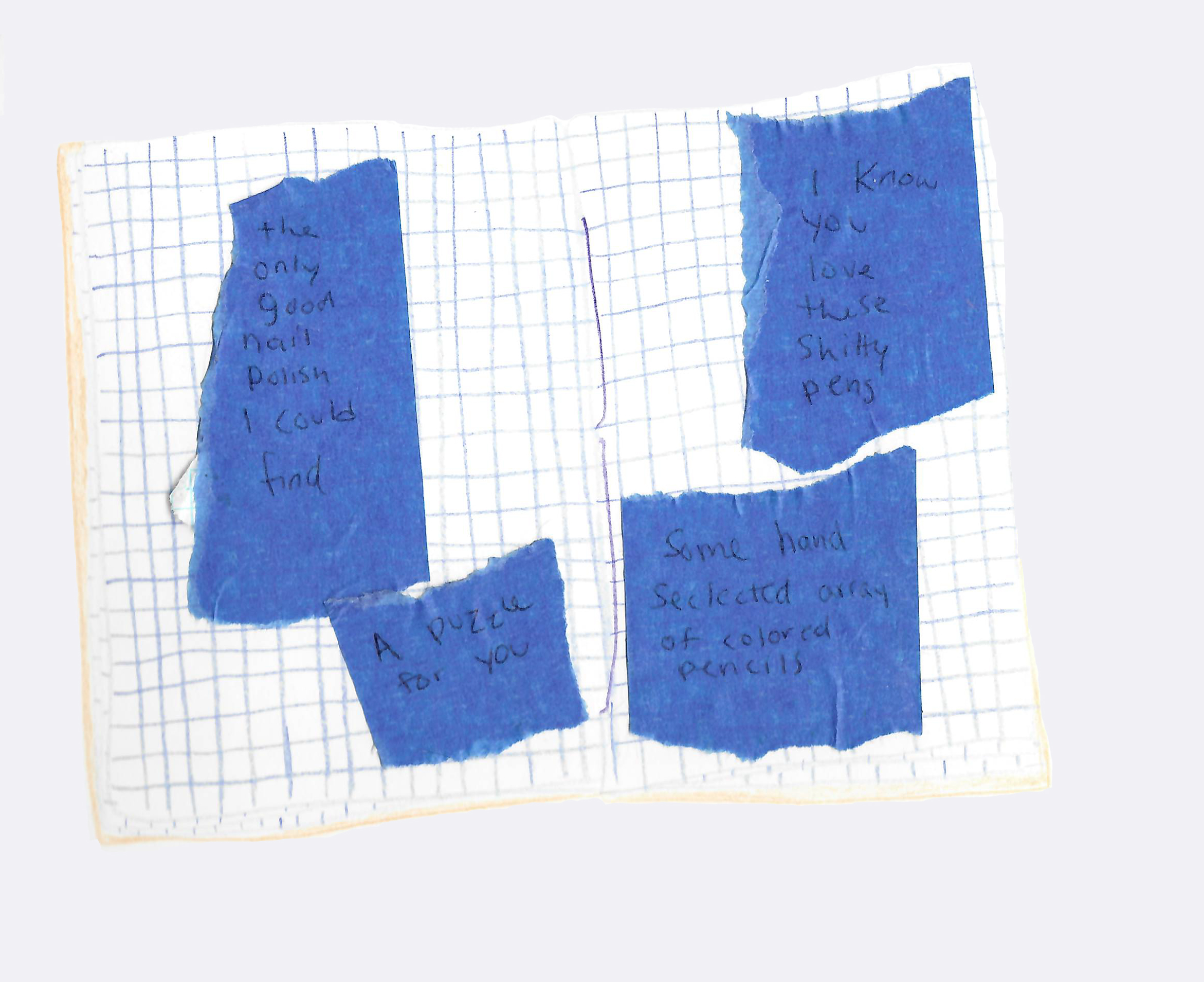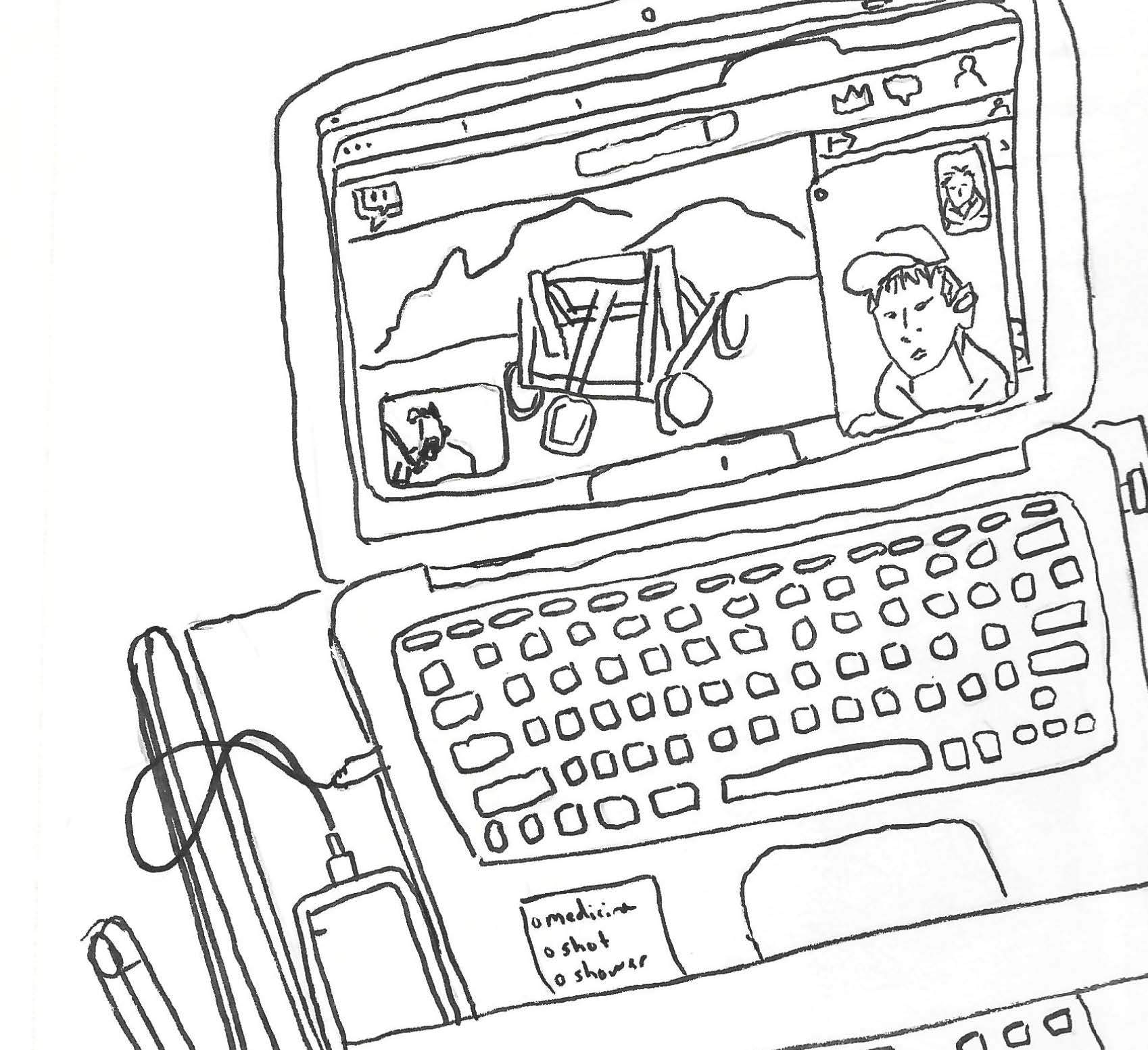 Tatiana Luboviski-Acosta
EVERY NIGHT FROM 11 TO 1, A NEW LOVE, OR:
AN INCOMPLETE PLAY,
WITH NO DIALOGUE, ONLY NARRATION,
IN THREE COMPLETE PARTS
PART ONE:
The Disappearing Man
CAST
Pink Zote Soap as The Boyfriend
Rosa Venus Soap as The Girlfriend
Silver Chrome Hand Shaped Ring Holder as God
&
Lemon & Tangerine as The Couple at the Beach
The delicate hand of God, resplendent in Her demonstration of
likeness, reached down & grabbed the Boyfriend, wasting away among
the waves. The Girlfriend watched from the shore, realizing, with horror,
that she could see herself as she watched her lover disappear.
PART TWO:
The Bisexual
CAST
Plastic Diamond Ice Cube
                                                     as The Bisexual
Diamond Shaped Prism
Desert Rose Quartz as The Boyfriend / The Closeted Theyfriend
Mirror as The Insecurities
& featuring
The Hannah Wilke Sculpey Players as The Biphobic Unconscious
She fell in love. With a man.
But it was his aura, his curves, the crevices of his psyche, that
lured her in. She was stronger, bigger than him. But it didn't matter. She
loved him.
When she was alone, however, her Biphobic Unconscious crept
in. Her mirror only showed her Insecurities in aggressive detail. At night,
in her nightmares, she was swallowed by genitals, surrounded and
mocked, then tossing her boyfriend back and forth, playing keep away,
as if he was a ball. She felt smaller and smaller, suddenly plastic,
suddenly lighter, her edges dulling and her insides freezing –
But then, she would wake up, come to her senses, knowing her
desire wasn't so brutal, so essentialist. The morning sun would remind
her, as it cut her good morning, with a rainbow onto the face of her
Boyfriend, her Closeted Theyfriend, and remember that her love wasn't
so complicated.
PART THREE:
A Wolfwoman in Paris
Jack O'Lantern Electrical Tea Light as The Wolfwoman
Small Plastic Lion Figurine as The Visitor / Lust
Turquoise Toothbrush as Undying Affection
Large Spherical Prism as The New Moon
&
Butterfly Linocut Cut-Out, Butterfly Earring, and Butterfly Enamel Pin
as Bloodlust
Once upon a time, in the Capital of the white Imagination, before
I was born, and before you could remember, a woman was asleep in her
apartment in…let's say…Paris. You'll have to believe me; and besides, all
the interiors look the same to me in the Global North.
In any case, she was asleep, when a Lion walked into her room.
The Lion simply walked over to her – still asleep! – and lay down, against
her rhythmically rising and falling form. The Lion's heat expanded deep
into her body, deep into where her dreams and sorrows lived and worked.
It so happened to be The New Moon, and this sleeping woman
had a condition that caused a shift in her way of being in the world that
was triggered by such celestial events. So difficult, so lonely, so
predictable was this cycle, that she had long abandoned hope for any
kind of connection. Instead, she maintained in her heart an altar to an
undying affection, her memories of an experience not even her own, that
rose to the enamel of her teeth as a regrettable Bloodlust.
Jimena Lucero
March was when I last hugged
someone that wasn't me.
Birds chirp, high up on trees.
Follow the white butterfly for a video.
I return to Earth with intention.
My body is full of transitional pain
ongoing, repetitive, dream & rebirth.
Jen & I FaceTime,
Technologically distant.
Our healing is participation.
Beyond this – a place – unfamiliar – unexpected
our liberated womanhood.
Always, we will find each other.
---
Erica Cardwell is a Brooklyn-based writer, critic, and educator. Fred Schmalz is an artist, poet, and the author of Action in the Orchards. Paul Hlava Ceballos is a poet and echocardiographer in Seattle. Rosamond S. King is a creative and critical writer, performer, and artist, and the author of Rock | Salt | Stone. Jasmine Gibson is a Philly jawn based in Brooklyn and the author of Don't Let Them See Me Like This. Ica Sadagat is a writer and care worker between coasts. Venn Daniel is a poet. They live in Sunset Park. Drue Schwartz is a fine artist whose personal work focuses on the vulnerability of the trans experience. Tatiana Luboviski-Acosta is an artist and doula living in California, and the author of The Easy Body. Jimena Lucero is a poet and sister (and former intern!). She was a 2019-2020 Emerge-Surface-Be fellow at the Poetry Project.