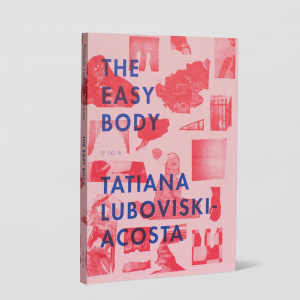 The Easy Body
Poetry
,
Timeless Infinite Light
$20.00
The Easy Body is a love letter from hell. In these poems, a fiery account of loss combines with a multi-lingual prophecy of stained, stunning beauty. In deep suffering and impure solidarity, the Latinx, matrilineal, colonized body of this text will never be 'easy.' Get ready for the birth of a riot and the death of the world.
Praise
In their incendiary debut, Luboviski-Acosta explores a vision of freedom that looks like apocalypse: dismantled states destroyed selves, and dismayed gods all watch in awe as a bony witch consorts with demons and blood-filled succulents to envision the hedonic chaos of our time, not as contemporary, but as immemorial. In a voice oscillating between decolonial rage and postcolonial melancholia, The Easy Body teaches us that if recovery is possible, it's only destruction against the white forces of linearity that have been trying to decimate island people for 524 years.
Details
Timeless, Infinite Light
ISBN: 9781937421229
Paperback, 114 Pages, 5.25 in x 7.75 in
Publication Date: 2017
Reviews
"This is a long love letter to hell, but to call it epic would oppress its very form. For there is no Hero. The Easy Body has no static protagonist. Luboviski-Acosta writes from many bodies: brown/Latinx bodies, female bodies, chronically ill bodies, mother bodies, queer bodies, earth bodies, celestial bodies, dopesick bodies. Bodies of inherent struggle and suffering: 'Bodies that are borders, hiding. / Never have I ever / possessed the pleasures / of having the easy body.'"