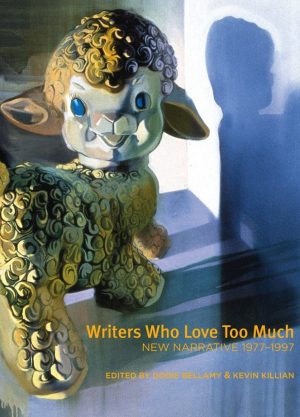 Writers Who Love Too Much: New Narrative Writing 1977-1997
At last a major anthology of New Narrative, the movement fueled by punk, pop, porn, French theory, and social struggle to change writing forever.
Intergenre
,
Essay
,
Fiction
,
eBooks
$17.99 – $29.95
Additional information
| | |
| --- | --- |
| Weight | 2.1 lbs |
| Dimensions | 6.5 × 1.5 × 9.2 in |
| Format | eBook, Paperback |
In the twenty years that followed America's bicentennial, narrative writing was re-formed, reflecting new political and sexual realities. With the publication of this anthology, the New Narrative era bounds back to life, ripe with dramatic propulsion and infused with the twin strains of poetry and continental theory. The reader will discover classic New Narrative texts, from Robert Glück to Kathy Acker, as well as rare supplemental materials, including period interviews, essays, and talks, which form a new map of late 20th century creative rebellion.
Details
ISBN: 978-1-937658-65-6
paperback, 544 pages, 6 x 8 in
Publication Date: 2017
Reviews
Dodie Bellamy and Kevin Killian's edited anthology, Writers Who Love Too Much: New Narrative 1977–1997, takes an expansive view. A monumental tome decades in the making, it contains the work of forty-two recognised and little-known authors…Published, unpublished, and long-forgotten works, interviews, illustrations, and ephemera are all included, and each piece is accompanied by an invaluable note by Bellamy and Killian offering context and contributing to a sense of an exceptionally large, diverse, and exciting writing scene.Proof that nothing sticks a scene together like bodily fluids, the editors' notes are also heavy on gossip and innuendo. Like New Narrative prose itself, which often used salacious, intimate asides to establish a conspiratorial relationship with its reader, Bellamy and Killian's reminiscences seem designed to make their reader feel included or at least momentarily implicated in their community.