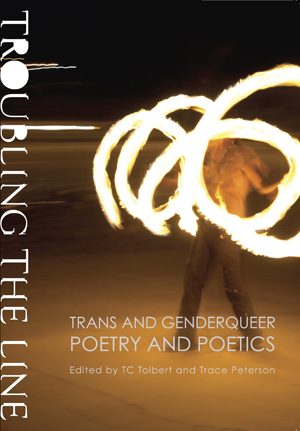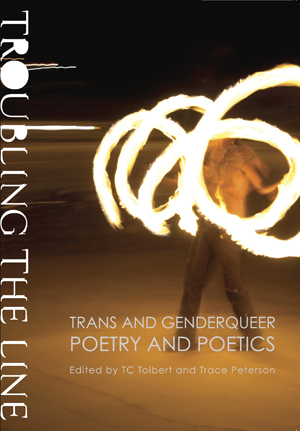 Troubling the Line:
The first-ever collection of poetry by trans and genderqueer writers.
Intergenre
,
Essay
,
Poetry
$29.95
Trans and Genderqueer Poetry and Poetics
Additional information
| | |
| --- | --- |
| Weight | 2.4 lbs |
| Dimensions | 7 × 1.5 × 9.9 in |
The first of its kind, Troubling the Line: Trans and Genderqueer Poetry and Poetics, gathers together a diverse range of 55 poets with varying aesthetics and backgrounds. In addition to generous samples of poetry by each trans writer, the book also includes "poetics statements"—reflections by each poet that provide context for their work covering a range of issues from identification and embodiment to language and activism.
Poets in Troubling the Line: Ahimsa Timoteo Bodhrán, Aimee Herman, Amir Rabiyah, Ari Banias, Ariel Goldberg, Bo Luengsuraswat, CAConrad, Ching-In Chen, Cole Krawitz, D'Lo, David Wolach, Dawn Lundy Martin, Drew Krewer, Duriel E. Harris, EC Crandall, Eileen Myles, Eli Clare, Ely Shipley, Emerson Whitney, Eric Karin, Fabian Romero, Gr Keer, HR Hegnauer, J. Rice, j/j hastain, Jaime Shearn Coan, Jake Pam Dick, Jen (Jay) Besemer, Jenny Johnson, John Wieners, Joy Ladin, Julian Talamantez Brolaski, kari edwards, Kit Yan, Laura Neuman, Lilith Latini, Lizz Bronson, Lori Selke, Max Wolf Valerio, Meg Day, Micha Cárdenas, Monica / Nico Peck, Natro, Oliver Bendorf, Reba Overkill, Samuel Ace, Stacey Waite, Stephanie Burt, TC Tolbert, Trace Peterson, Trish Salah, TT Jax, Y. Madrone, Yosmay del Mazo & Zoe Tuck
Details
ISBN: 9781937658106
paperback, 544 pages, 7 x 10 in
Publication Date: 2013
Reviews
The wonder of Troubling the Line is that editors TC Tolbert and Trace Peterson have allowed the book to be big and vehemently eclectic, and so the diversity of writers and poems across its pages is animated by such a rich diversity of identities that generalizing about them becomes impossible.