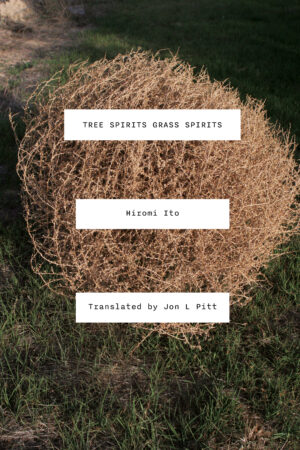 Tree Spirits Grass Spirits
A collected series of intertwined poetic essays written by acclaimed Japanese poet Hiromi Ito—part nature writing, part travelogue, part existential philosophy.
$19.95
Written between April 2012 and November 2013, Tree Spirits Grass Spirits adopts a non-linear narrative flow that mimics the growth of plants, and can be read as a companion piece to Ito's beloved poem "Wild Grass on the Riverbank". Rather than the vertiginously violent poetics of the latter, Tree Spirits Grass Spirits serves as what we might call a phyto-autobiography: a recounting of one's life through the logic of flora. Ito's graciously potent and philosophical prose examines immigration, language, gender, care work, and death, all through her close (indeed, at times obsessive) attention to plant life.
Praise
These ambient poems about the flora of the California desert and Kumamoto, Japan are philosophical meditations on the peculiarity of human storytelling and naming practices… Ito's poems suggest that the ways we humans look at plants contain information about how we produce both selves and others as well as narratives about death and transformation.
Details
ISBN: 978-1-643-62192-0
Paperback, 192 pages, 5.5 x 8.25 in
Publication Date: October 3, 2023
Reviews
Finding the humanity in the plant world, these evocative essays will take root in readers' minds.