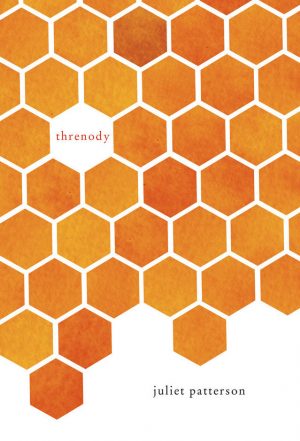 Threnody
An urgent and scintillating second collection by poet and activist Juliet Patterson
$15.95
Additional information
| | |
| --- | --- |
| Weight | .3 lbs |
| Dimensions | 5.2 × .2 × 8 in |
Part lamentation, part ode, Threnody (the word originates from the Greek, threnos, "wailing" and oide "ode."), examines the beauty and violence of our present ecological moment with a lyric and meditative eye. Concerned with the precise relationship of components in the world these poems exist in the overlap between imagination and fact, truth and history, territory and map, the living and the dead.
Praise
As if composed by Psyche and Echo—in its pared-down, spiny, neologistic apprehension—when desire speaks, death responds. Forever. And then desire speaks again. Whether it's the innumerable deaths of soldiers, or the sudden, inexplicable deaths of whole colonies of bees, Juliet Patterson's marvelous, wrenching lamentation recalls the forlorn desire and hopefulness in Paul Celan's "Threadsuns." Terse, scary, heartfelt—such is this terrific book of poems.
Details
ISBN: 978-1-937658-55-7
paperback, 80 pages, 5.5 x 8.25 "
Publication Date: 2016
Reviews
"Toward a flower- / ing I came // lowly lupine raised / wrist," Juliet Patterson begins in "Toward," the opening poem of her latest collection, Threnody, out last fall from Nightboat Books. And with these few lines, she deftly establishes the themes and sensibilities of her project: nature raised up into inspection, and with it, inspection itself (the wrist). Quiet, patient, yet often with a swarming force, these poems worry the fraught intersection between humanity and nature, where, as we quickly see, threat abides. If nature is a flowering, it is a flowering against the edges of nothingness…Threnody is set against the backdrop of extinction—specifically, Colony Collapse Disorder, the sudden disappearance in recent years of millions of beehives that many scientists link to various human causes and which Patterson has addressed in other activist projects. While bees as a specific species figure prominently throughout the collection, the focus of these poems is often much more fundamental, concerned with nature as a generative force entangled with the human mind and its impulse to make both images and language. This relationship between human subject and nature is primordial and immediately hinges on implicit questions about human agency and responsibility. "What light is like this?"